Mixed greens and roasted carrots. Good for you, but not very, you know, good, right?
Wrong.
I ate a shockingly delicious version of this salad at ABC Kitchen in New York's Flat Iron district last month: Roasted Carrot and Avocado Salad with Crunchy Seeds, Sour Cream and Citrus Dressing. Ever since, I've been determined to parse out its ingredients and replicate the tastes at home.
ABC Kitchen lives up to all the Yelping superlatives
My family took me to brunch at ABC Kitchen, Jean-Georges Vongerichten's farm-to-table restaurant, to celebrate my (cough) 39th birthday.
ABC Kitchen's superb farm-fresh offerings are made more exciting by the restaurant's Lascaux Cave-meets-Anthropologie vibe. A few snapshots:
A vast, black walled, windowless dining room with white-washed tree branches, bent crystal chandeliers and other unidentifiable vintage items stuck on walls and dangling from ceilings…
Herds of thin, 20-somethings leaning on petrified burled wood bars, scanning recycled, corrugated cardboard menus…
A diner wearing a tight leather aviator's helmet energetically spooning pasta into his mouth…
Hand-thrown, amorphously shaped white porcelain dinner plates mixed with mismatched vintage china bread plates…
I believe my husband and I were the only patrons over age, um, 39. Notwithstanding, we got a nice table—probably because we were accompanied by two attractive teens and a young-adult: our children.
Copywriters' Kitchen's Pick of ABC Kitchen
In addition to the salad and a McKenzie Rye Whiskey Manhattan with Brandied Cherries, I had a thin, crisp-crusted pizza topped with a farm egg and Toast with Roasted Kabocha Squash and Ricotta. I promise to reconstruct the latter in a future post.
One final gastronomic rhapsody: ABC's Salted Caramel Sundae with homemade ice cream, Hawaiian dark chocolate sauce and the chef's Cracker Jack-style caramelized popcorn and peanuts. If you go to ABC, order this desert or you will regret the indulgent omission for the rest of your life.
Jamie Oliver-inspired Roast Carrot Salad
Once home and recovered from my food-induced stupor, I began Googling for the restaurant's recipes. I followed a carrot trail from Yelp post to Yelp post to Jamie Oliver's site. His Roast Carrot Salad with Avocado and Orange and Lemon dressing appears to have been ripped off duplicated by ABC. Exactly.
The salad's layered flavors begin with a pounded paste of coriander, cumin, chiles and olive oil. You smear the paste on the carrots and roast them to intensely-flavored, slightly withered softness.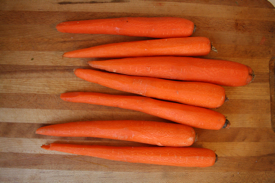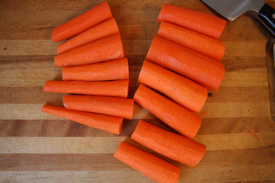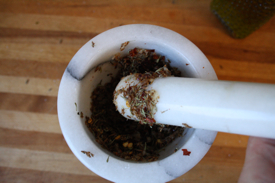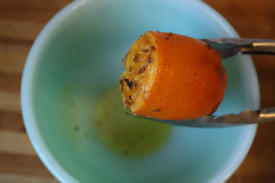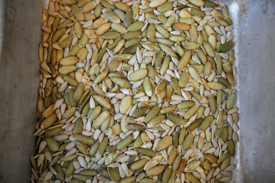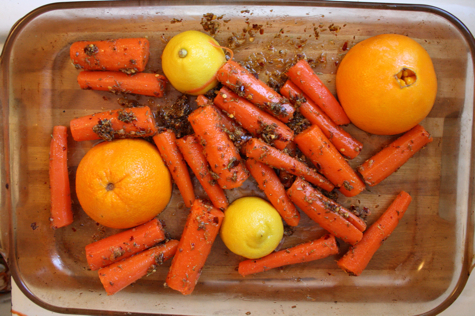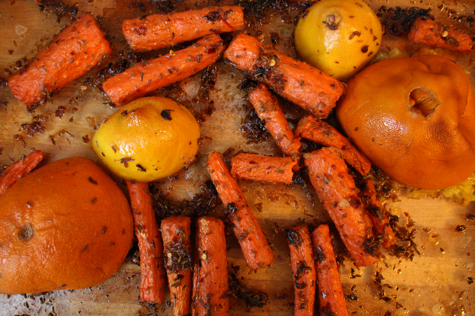 The cooled carrots are served on a bed of bitter radicchio and mixed greens tossed in roasted citrus vinaigrette. It's topped with a dollop of sour cream, toasted sunflower and pumpkin seeds, and olive-oily croutons.
I've taken the liberty of tweaking Chef Oliver's salad slightly. His five-alarm, herby paste calls for one or two whole red peppers that seared our mouths painfully. Next time I will use half a pepper or substitute half a teaspoon of red pepper flakes.
I also made ciabatta croutons. Chef Oliver toasts the bread instead. Lastly, I skipped the avocado because, well, it just seemed not-local and very odd in January's 15-degree weather.
Winter Greens and Cumin Roast Carrot Salad
1 pound carrots, peeled and cut in half
2 teaspoons whole cumin seeds
½ dried chilli or ½ teaspoon red chili flakes
Kosher salt and freshly ground black pepper to taste
2 cloves of garlic, crushed
1 tablespoon fresh thyme leaves or ½ teaspoon dried thyme
5-6 tablespoons extra virgin olive oil
2 tablespoons red wine vinegar
1 orange, cut in half
1 lemon, cut in half
4 ½-inch-thick slices of ciabatta or other Italian bread
4 cups interesting mixed winter salad leaves, e.g. romaine mixed with Treviso, radicchio, cress, etc.
1/2 cup of sour cream
4 tablespoons pumpkin seeds and sunflower seeds, toasted
Preheat the oven to 350°F.
Prepare croutons: use my crouton recipe, but skip the paprika and herbs—or set aside the bread if you prefer plain toasted ciabatta, as does Jamie Oliver.
Toast pumpkin and sunflower seeds: Place seeds in a baking pan, slide into oven and bake for 10 minutes, shaking pan midway so seeds toast evenly. Remove seeds from oven and reserve.
Peel and cut carrots in half.
Parboil carrots in boiling, salted water for 10 minutes.
In the meantime, prepare spicy herb paste: With a mortar and pestle, pulverize cumin seeds, chillies, salt and pepper. Add garlic, thyme and 2 tablespoons olive oil and continue smashing until a paste forms. "The idea here is to build up the flavors," notes Jamie Oliver. Add one tablespoon vinegar.
When carrots are done, drain them and and toss them into a shallow baking dish. Pour the paste over the carrots and toss to coat.
Arrange carrots in a single layer in the center of the pan and add the orange and lemon, cut side down—their juice will be used later in the dressing. Roast carrots for 20-25 minutes, or until golden.
Remove carrots from oven.
Using tongs, squeeze the roasted orange and lemon juice into a bowl and add the same amount of extra virgin olive oil, the remaining tablespoon of vinegar and salt and pepper to taste. Whisk dressing to emulsify.
Pour dressing over greens and toss.
Arrange greens in a salad bowl or on individual plates. Place carrots on top of greens, sprinkle with croutons and top with a dollop of sour cream. Scatter toasted seeds over sour cream and serve.
Serves four.