Years ago while on summer holiday in New York's Thousand Islands we were introduced to salt potatoes, a regional specialty often served at barbecues.
The culinary roots of this dish lie in Syracuse, New York, where commercial salt springs once flourished along Lake Onandaga. In the 19th century, Irish salt miners created an early version of fast food using ingredients at hand—salty spring water and local potatoes.
Today you can recreate the taste of Syracuse spring water by adding a full cup—don't stint—of salt to several quarts of water. Boiling the tubers in this salt-saturated water delivers powerful salty-earthy flavor notes that taste nothing like plain old boiled potatoes.
When you drain the potatoes you'll notice their skins are slightly white-frosted with salty residue.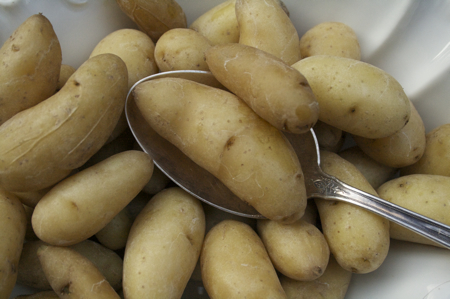 In upstate New York many supermarkets sell ready-to-boil salt potatoes in 5-lb mesh bags complete with a generous portion of pre-measured salt attached.
Salt potatoes are divine as a side dish accompaniment to grilled grassfed meats and chicken.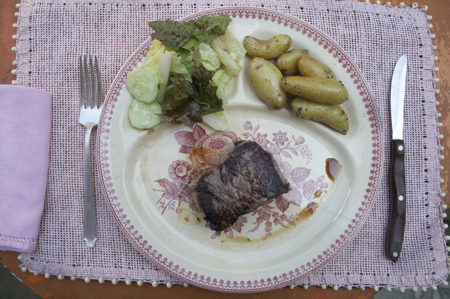 We mound salt potatoes into a big bowl and serve them naked with a plate of butter on the the side. Purists enjoy them as-is but sybarites will want to drench the potatoes in butter and add several grindings of fresh black pepper.
In the unlikely event that you have leftover salt potatoes, try chilling them and eating them whole for a quick, satisfying snack. Salt potatoes are also delicious sliced and fried or as the foundation for warm or cold potato salads.
For this recipe, we're using local fingerling potatoes, but you may use any small new potato.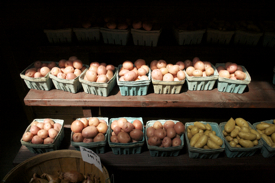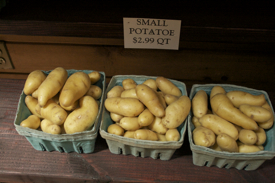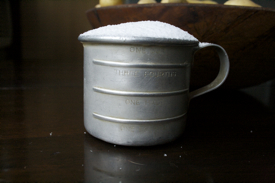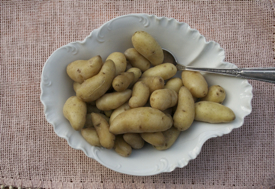 Upstate New York Fingerling Salt Potatoes
2 pounds fingerling or other new potatoes—about 4 cups
1 cup Kosher salt
2 quarts water
Pour water and salt into a large pot. Cover and bring to a boil.
Add potatoes, cover pot again and bring to a boil once more. Adjust flame to keep potatoes at a low boil. Cooking time will vary according to potato size—but plan on cooking for at least 20 minutes or until fork tender.
Drain potatoes and serve immediately with butter and fresh ground pepper, if desired.
Serves 6.