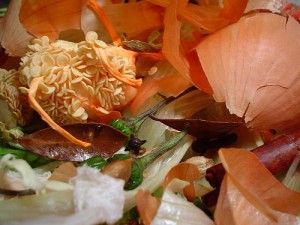 Part One of a Copywriters' Kitchen two-part series: Composting Myths and Facts
Think the ecological crisis is too big to tackle—that your little household has no impact on the environment? Think again.
By taking one simple step—composting your garbage—you can reduce landfill, cut greenhouse gas emissions, zap dangerous chemicals in soil and much more.
You don't need a garden to compost. You don't even need outdoor space.
And dig this: It's all on account of worms.
The Big Apple now has worms in its kitchens
Today an increasing number of New Yorkers—busy people living in tiny apartments—compost. Urban composting is rising, thanks in large part to the Lower East Side Ecology Center (LESEC), an environmental non-profit organization founded in 1987.
At LESEC's New York City Worm Composting Workshop on Saturday, January 24, 2009, the Copywriters' Kitchen crew learned all about indoor composting.
After the workshop, we nabbed a LESEC Worm Condo kit, hurried home and set up the Condo in Copywriters' Kitchen—in less than 20 minutes.
Now you can too.



Copywriters' Kitchen unearths worm story ahead of The New York Times
FYI, The New York Times was on hand for LESEC's Saturday event to be featured in the Times' New York section.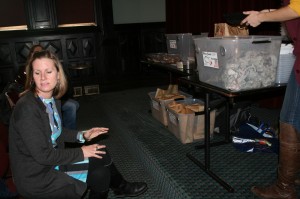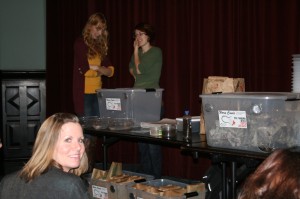 Composting myths and facts
Likely you have questions and concerns about composting. Does it really make an environmental impact? Isn't it a huge hassle? And, you know, what about worms? In your home?
Let's dig up (sorry) some composting myths and facts:
Myth: Composting doesn't have much impact on the environment.
Fact: Composting provides many tangible ecological benefits. Composting…
Cuts your garbage waste by 25%
Reduces landfill and allows land reclamation
Improves air by reducing greenhouse gas production
Detoxifies soil: Compost neutralizes dangerous substances, including some heavy metals
Reduces need for chemical fertilizers and decreases toxic rainwater runoff
For more detailed information on composting benefits, go here and here.
Myth: Composting smells stinky.
Fact: Composting is odorless when implemented properly.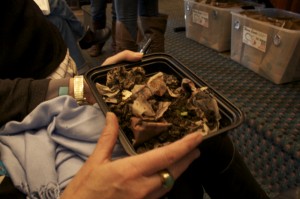 Myth: You need a yard to compost.
Fact: Nope. All you need is 1½ square feet of space. It can be a kitchen, closet or cabinet indoors.
Myth: Composting is difficult and time consuming.
Fact: Composting is easy, fast and fun. We set up a Worm Condo in the Copywriters' Kitchen in minutes. You can make a worm bin from scratch in half an hour. After that you just dump in scraps.
Myth: It's expensive to compost indoors.
Fact: Composting set-up costs next to nothing. You can buy LESEC's all-inclusive Worm Condo Kit for just $55—and even less when you attend one of their free workshops. Uber-frugal composters: You can save big bucks when you make your own bin and buy bargain-priced worms from LESEC. For complete purchasing information and instructions, see More composting resources, below.
Myth: You have to touch worms a lot in order to compost indoors.
Fact: You rarely touch worms. When you buy the worms they come in a bag or package mixed with compost, see photo, below. After you set up the bin, you can gingerly sprinkle the worms/compost without touching the worms. You add scraps and organic garbage by lifting up the fluffy damp newspaper strips that make up the bin bedding. In the beginning, worms hang out at the bottom of the bin—out of sight, mind and touch. Later, you can scoop compost with a trowel or spoon to make room for scraps.

More composting resources
Explore the Lower East Side Ecology Center (LESEC) website
Visit LESEC at the Union Square Green Market Composting Stand
North Plaza, Union Square Park
17th Street and Park Avenue South
Year-round: Monday, Wednesday, Friday, and Saturday from 8am to 5pm
At LESEC's Union Square stand you can:
Buy Worm Condo kits for just $55
Buy Red Wiggler worms for $22 a pound or $12 for half a pound—FYI, this is a HUGE bargain
Drop off organic scraps if you can't or don't want to compost in your apartment
Tomorrow: Check back and learn how to make your ownWorm Condo with Part Two of Turn Your Garbage into Gold: Urban Worm Composting Made Easy, Worm Composting in 7 Simple Steps