Where I grew up in northern California, tortillas were sold everywhere—grocery stores, produce marts, supermarket, 7-11s. So I was disappointed when I couldn't find corn tortillas in my New York suburb, a neighborhood where people pride themselves on sophisticated palates and pantries packed with every possible arcane ingredient.
I could've probably tracked down heirloom Aztec corn tortillas at the White Plains Whole Foods. Or a flax seed-flecked version at Trader Joe's in Scarsdale.
But plain, simple, cheap, gritty, flowery corn tortillas—the kind I ate growing up? No.
That's why I was ecstatic when my son discovered a family run tortilleria a block away from his apartment in Bushwick. This gustatory goldmine almost makes up for the fact that his apartment sits across the street from a chicken slaughterhouse. Almost.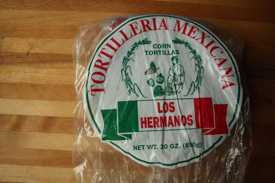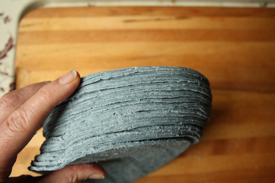 Last week Son was scheduled to bring me my fix—a 30-pack of blue corn tortillas (for $1.39!!). But he forgot. I bit my tongue so I wouldn't blurt out, "Next time, forget the tortillas and forget about coming home."
Yes, I was upset. And not just because it meant no Migas for a week. Mostly I was miffed because I'd planned on having Mark Bittman's Tortilla Soup.
You see, I'd finished the soup's grunt work: I'd simmered cut-up chicken, a full head of garlic and a quartered onion—skin and all. I'd strained the stock, pushing the buttery soft boiled onions and garlic cloves into the sieve with a wooden spoon to extract every last drop of flavor. I'd boned, skinned and shredded the chicken. And I'd bought an avocado a few days earlier so that now, it was perfectly ripe.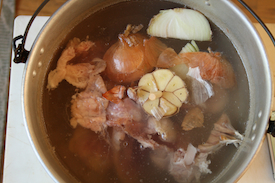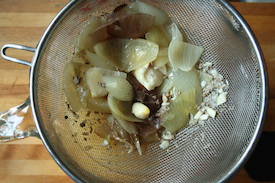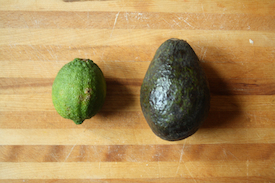 The only thing I needed for the Tortilla Soup was, you know, tortillas.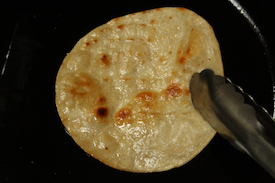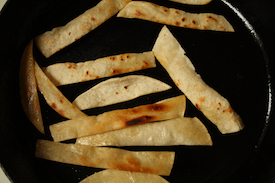 This week mijo showed up with two bags of tortillas, so we're eating a lot of this soup. I serve the chicken broth with sides of fried tortilla strips, avocado, grated Monterey Jack cheese, fresh cilantro and lime wedges. Everyone likes to put together his or her own little made-to-order bowl of soup.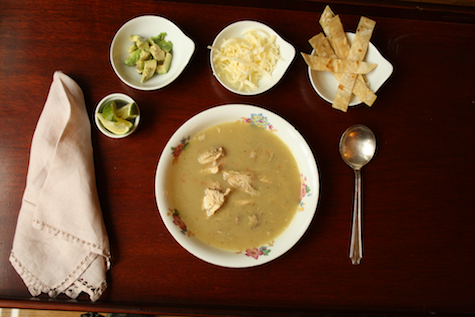 Tortilla Soup Recipe
1/2 of a whole chicken, cut up or 1 1/2 pounds bone-in chicken thighs or legs
2 Knorr chicken bouillon cubes (optional)
1 medium onion, quartered (leave the skin on)
1 head garlic, halved across the equator (leave the skin on)
2 bay leaves
1/4 cup vegetable oil, or more as needed
6 corn tortillas
Kosher salt
1 jalapeno pepper, seeded and minced
1/2 cup chopped fresh cilantro
1 avocado, pitted, peeled and cubed
4 ounces Monterey Jack cheese, grated
Lime wedges for serving (optional)
In a large stock pot, place the chicken, 3 of the onion quarters, halved garlic, bay leaves and bouillon cubes. Or if you're a food purist, don't use the bouillon cubes. I, however, agree with Pierre Marco White that Knorr's is "the best f*cking ingredient in the world, let's not kid ourselves…Genius product." Cover the chicken and veggies with water–about 8 cups–and bring to a boil. Lower to a simmer and cook until chicken is very tender, 45 minutes to 1 hour.
In the meantime, fry the tortillas. Pour the oil into a large skillet over medium heat. When oil is hot but not smoking, fry the tortillas one at a time, turning once, until crisp and golden–about 2-3 minutes per tortilla. Drain on paper towels and sprinkle with salt. Set aside two tortillas and cut remaining tortillas into strips. Toss the tortilla strips in the frying pan to crisp on all sides. Drain strips on paper towels and reserve.
When the chicken is tender, pick out the pieces from the broth and place them in the fridge to chill. When cool enough to handle, pull the chicken meat into chunks and reserve. Discard chicken bones and skin.
While the chicken is cooling, strain the stock, pushing soft cooked vegetables into the sieve to extract all their flavor. Reserve stock.
Peel the remaining quarter of an onion and put in a blender with the jalapeno, 1/4 cup of the cilantro, the two whole tortillas–torn into pieces–and a sprinkle of salt. Add enough stock to fill the blender a little more than halfway. Purée until the mixture is as smooth as possible.
Pour the purée and remaining stock back into the pot and bring to a boil. Reduce the heat and simmer stock for 5 to 10 minutes. Add chicken and adjust seasoning.
Serve immediately with sides of avocado chunks, grated cheese, remaining cilantro, fried tortilla strips and lime wedges.
Served 4-6