"They're called Cinderella pumpkins," my farmer-greengrocer told me when I asked him about the flat, wheel-shaped pumpkins piled in bins next to the butternut squash.
I studied the pearly, buff colored pumpkins. An heirloom vegetable with an enchanting backstory.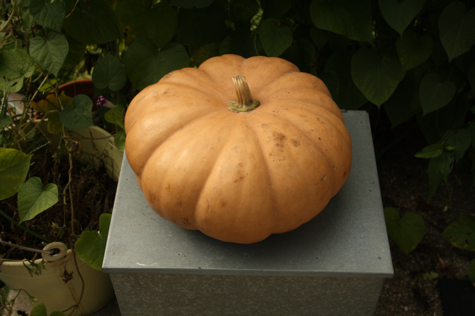 Who cared what it tasted like? I picked out the prettiest and bought it.
The friendly checkout lady told me the pumpkins were good in pies. If so, I imagined they'd be good in soup.
Cheese Pumpkins work well in sweet and savory recipes
They made delicious soup. They worked fabulously in pies. The pumpkins soon became a fall and winter staple in the Copywriters' Kitchen.
So I was only slightly disappointed to learn their fairytale moniker was incorrect: It seems my favorite pumpkin didn't spring from the soil of Perrault's 17th century France. Instead they came from Long Island.
Well alright.
Factory farming almost destroyed heirloom pumpkin
Named Long Island Cheese Pumpkins—because they resemble a wheel of cheddar—the squash are an old-fashioned variety. As farming evolved into big business in the 20th century, Cheese Pumpkins fell out of favor.
Their odd shape slowed their roll along factory-farm conveyor belts. Busy people found Cheese Pumpkin's tough, rounded rind time-consuming to peel.
But the pumpkin's taste is well worth your extra effort. Underneath Cheese Pumpkins' thick, creamy skin, you'll find a dense, burnt orange-colored flesh—and none of Jack-o'-Lantern pumpkins' stringiness. Their sweet flavor is similar to—but more delicate than—butternut squash.
I recently discovered that real Cinderella pumpkins exist. But I still think Cheese Pumpkins make superior carriages for the Cinder Girl.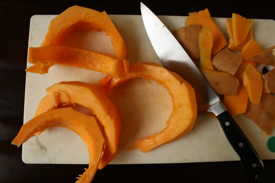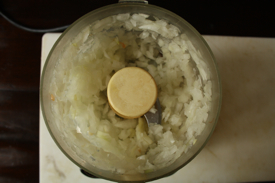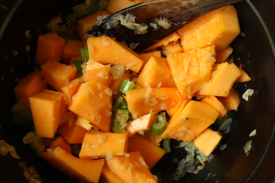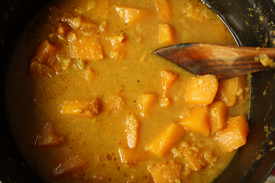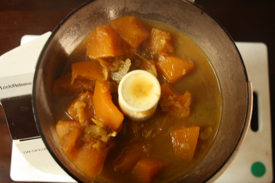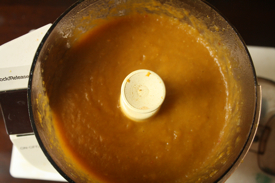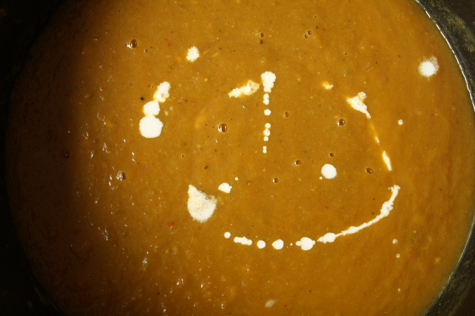 Curried Long Island Cheese Pumpkin Soup
1 small Long Island Cheese Pumpkin, peeled, seeded and roughly chopped—about 5-6 cups. If unavailable, use medium sized butternut or other winter squash.
2 tablespoons olive oil
1 medium onion, chopped
2 stalks celery, chopped
1 clove garlic, minced
2 tablespoons freshly grated ginger root
2 teaspoons curry powder
1/4 teaspoon crushed red peppers
1/2 teaspoon turmeric
1 teaspoon ground cumin
1 teaspoon coriander
4 cups vegetable or chicken broth—I use Knorr's Bouillon Cubes and hot water
2 teaspoons Demerara or brown sugar
1/2 cup heavy cream and milk—any proportion you like.
Peel, seed and chop pumpkin. Cut the pumpkin in half, scoop out the seeds and cut the pumpkin into manageable vertical slices. Cheese pumpkin rind is very tough. I cut it off by laying the slices sideways on a chopping board and cutting downward. Chop pumpkin into 2" pieces.
Chop onion—I use a mini food processor.
Slice celery.
In heavy stockpot or Dutch Oven heat olive oil until hot, but not smoking.
Throw in onions, celery and garlic. Cook, stirring occasionally and adjusting flame to keep vegetables from browning, until they begin to soften, about 5 minutes.
Add ginger, curry powder, red pepper, turmeric, cumin and coriander. Lower flame and cook, stirring occasionally, to allow spices' flavor to bloom fully—for about 5 more minutes.
Add pumpkin, stir to coat with spices. Cook 5 more minutes, stirring occasionally and adjusting flame to keep vegetables from browning.
Add hot broth and sugar, cover pot, and bring to boil, then immediately reduce to low simmer.
Simmer broth and vegetables for 30 minutes, until very soft.
Spoon broth and vegetables into a food processor. Purée until very smooth. Depending on the size of your food processor, you may need to process in 2 batches.
Pour puréed pumpkin back into pot. (At this point, pumpkin soup can be set aside, stored or frozen until ready to serve. When ready to serve, thaw or reheat pumpkin over low flame, stirring occasionally to keep purée from scorching.)
Stir in cream and milk in any proportion you like—I like more cream. Heat for 1-2 more minutes.
Ladle into tureen or bowls and serve. At Copywriters' Kitchen we like to accompany this soup with Crunchy Oven-Toasted Croutons.

Serves 8.