Blame Samuel Johnson for our dearth of oat recipes.
In his 1755 Dictionary of the English Language, Dr. Johnson defines oats as "a grain which in England is generally given to horses, but in Scotland supports the people."
The snooty definition may explain why the English—and we Americans, their culinary cousins—use oats more as fodder than food. Here in the States we eat oats in just two ways: oatmeal and oatmeal cookies.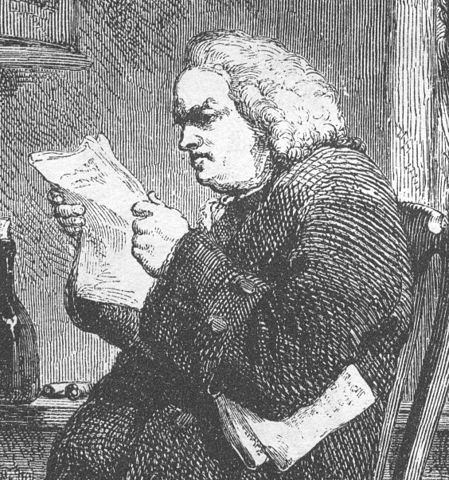 Scots use oats far more imaginatively. Along with sheep guts, onions and spices, they steam oats in haggis. They mix oats with honey and whiskey to make a cocktail, or with milk, honey, whiskey and spices to make a posset. Oats are baked in scones, bannocks and in dozens of different biscuits.
Savory Walnut Oatcakes are my twist on classic Scottish oatcakes. Packed with whole oats, toasted walnuts and sharp cheddar cheese, these Oatcakes make a hearty cocktail or tea snack.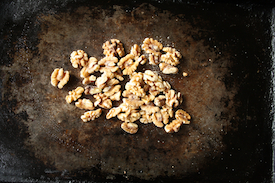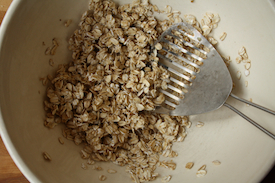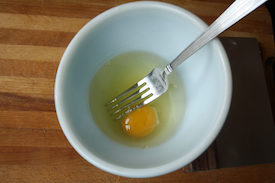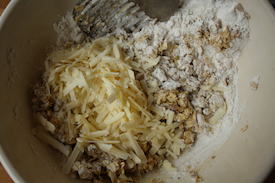 After rolling the dough into fat balls and smashing them with your hand, give each cake a sprinkle of flaky finishing salt—sel gris, fleur de sel or even plain Kosher salt works well. Then pop the cakes in the oven.
When you smell toasted cheddar and the cakes turn golden at their edges, pull the pan out.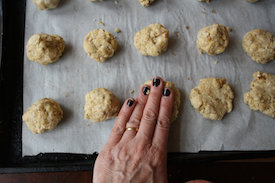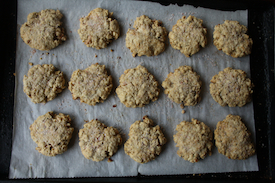 Cool the Oatcakes until you can just handle them. Now bite into a warm crumbly cake. Even without added sugar, you can taste that killer sweet-salty punch. Guess what, Dr. Johnson? It's the oats.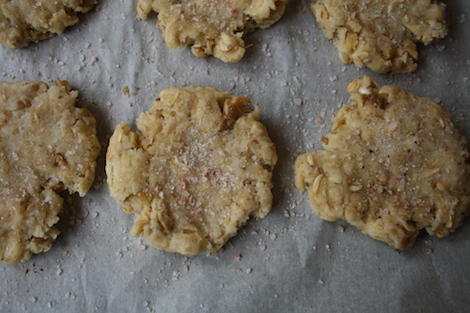 Want to knock yourself out? Add a smear of stinky brie or tangy goat cheese. And wash it all down with a Black and Tan.
Neigh.
Savory Walnut Oatcakes recipe
3/4 cup toasted walnuts
1 cup old-fashioned rolled oats—don't use quick cooking variety
1/2 cup boiling water
1 cup sifted unbleached all purpose flour
1/2 teaspoon sea salt
1/4 teaspoon baking soda
1/4 teaspoon freshly cracked black pepper
1/3 cup safflower or other mild oil, plus extra for greasing cookie sheet
1 large egg, beaten
1 cup grated cheddar cheese
Flakey salt such as fleur de sel or Kosher salt
Preheat oven to 350 degrees.
Arrange walnuts in one layer on a jelly roll pan or cookie sheet. Slide sheet into oven and bake walnuts until slighty toasted, about 10-12 minutes. Remove from oven, cool slightly, chop and reserve.
Using a teaspoon or so of oil, grease cookie sheet—or instead lay down a sheet of parchment paper on the pan—and set aside.
Pour oats into a large bowl, sprinkle with boiling water and blend well.
In a medium bowl, mix flour, 1/2 teaspoon salt, pepper and baking soda.
In a small bowl, beat egg and oil until blended.
Pour egg/oil mixture into oats, stirring well.
Dump flour mixture, cheese and chopped walnuts into the oat mixture, stirring gingerly to blend. This makes a stiff dough—you may need to knead it with your hands and add a drop or two more water to fully incorporate flour mixture.
Using your hands, scoop up dough and shape into balls a little smaller than golf balls.
Place balls 2 inches apart on greased cookie sheet. Flatten balls with the palm of your hand until they're 1/4" thick. Sprinkle cakes with a pinch of flaky salt.
Slide sheet into oven and bake cakes 9 minutes. Turn sheet around so cakes brown evenly. Continue baking for another 7-10 minutes, until edges and bottom of cakes are golden.
Remove sheet from oven and cool cakes on racks. Store in airtight container.
Makes 12-16 cakes.