With fragrant bundles of basil crowding farmers' markets at this time of year, pesto is a natural choice for summer dinner.
Traditionally made with pignoli, pesto may also be made with walnuts. These nuts' faint bitter flavor notes blend deliciously with basil, olive oil and Parmesan.
To lighten pesto's sometimes too-rich denseness, I add warmed cream when tossing it with the pasta.
You can serve pesto with any short pasta. Rotini is a favorite not only for its playful shape but because the corkscrews hold so much nutty pesto in their crevices.
In addition to tossing it with hot pasta, pesto—thinned with a tablespoon of olive oil—makes a delicious cold pasta salad.
But don't limit pesto to pasta.
4 great ways to use pesto
Here are some other ways to use pesto:
Pizza topping. To make a white pizza with pesto, skip the marinara. Instead brush pizza dough with olive oil, spread with ricotta and add dollops of pesto. Sprinkle top of pizza generously with grated mozzarella and bake. Divine.
Appetizers. Spread pesto on bruschetta or sliced Italian bread.
Add pesto to a frittata or to scrambled eggs
Float a teaspoon of pesto in a bowl of minestrone or other vegetable soup.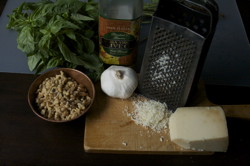 Rotini with Walnut Pesto and Cream
2 cups fresh basil leaves, stems removed, washed and patted dry
2 cloves of garlic, crushed
1 cup walnuts
1 cup extra virgin olive oil
1 cup Parmesan cheese
Fresh ground pepper
1/3 cup heavy cream, warmed
1 pound rotini or other short pasta
Put four quarts of water on to boil for pasta.

In the meantime, combine basil leaves, garlic and walnuts in a food processor. Process to a coarse paste.

With motor running, add olive oil in slow stream.

Turn off the food processor and add cheese and pepper. Pulse to blend.

Scoop out one cup of pesto and reserve. Store remaining pesto in airtight container in refrigerator. Pesto keeps for several weeks in fridge and for months in freezer.

Cook pasta until al dente. Drain and pour back into pasta pot.

Add reserved pesto and stir to coat pasta.

Pour cream over pasta and stir to incorporate. Add more pepper to taste and serve immediately.
Serves 8.