Do you know anyone who balances work-family-community life gracefully?
I don't juggle with finesse—and frankly, neither does anyone else I know.
Even though my kids are long out of diapers, life continues to be harried and messy.
All by way of confessing that Saturday is a workday for me.
I've tried, failed and reluctantly accepted—for now—that I can't cram in all personal and professional tasks between Monday and Friday. Business days and hours are dedicated to work-work, i.e. clients or self-marketing.
That relegates grocery shopping, housecleaning, laundry, errands, cooking, community and volunteer work and blogging for Copywriters' Kitchen and my copywriting blog, MarketCopywriterBlog.com, to my "free" time.
The wee hours. And Saturdays.
That's why I love Sundays. When I do nothing.
Everyone deserves a Sabbath
On Sunday my Macbook doesn't hum twelve hours a day. It doesn't hum at all—I unplug on Sunday. I don't check email, type or tweet.
We go to church—yes, I admit dragging cranky teenagers into a minivan is the one chore of the day.
But the rest of the day is devoted to relaxing, eating and drinking.
On Sunday I have a drink—in the middle of the day—and think about Flogging Molly's Factory Girls…
Come day go day
Wish in my hearty it was Sunday
Drinking buttermilk all the week
And whiskey on a Sunday.
My husband makes Bloody Marys or I mix a grapefruity Trinidadian Bulldog. I like to munch Olive Oil and Black Pepper Parmesan Biscotti with these drinks. So I try to keep Biscotti dough handy in the freezer.
I ensconce myself in a big puffy chaise lounge. I position my drink beside me. Then I slowly read each section of the Sunday New York Times.
I especially enjoy the real estate section. A masochist, I delight in poring over charming and unaffordable NYC apartments.
I stare out the window and recall our own charming, but affordable NYC apartment. The one with the rent-controlled lease. The one we let go of in the 80s.
I move on to the Style section, Book Review, New York Times Magazine…
Aside from the paper, no non-fiction is allowed on Sundays: I'm currently escaping into novels written by my Twitter friends Virgina DeBerry and Donna Grant.
And I'm again attempting Moby Dick. I'm on page 19. Last Sunday I was on page 17. But I'm chuckling this time: My recognition of Melville's humor in this dense text feels like progress.
I look out the window at a stand of old maple trees. They line up like friendly old sentries and look stunning and completely different in each season.
Then I nod off in a midday nap—a rare luxury for insomniacs like me.
And our family sits down to a big early dinner.
No-fuss Sunday dal
Because I don't want to lift a finger on Sunday, I do all the cooking and baking the day before.
So I'm always looking for dishes that taste better next day—soups, stews and bean salads whose flavors mingle and improve over 24 hours.
With two vegetarians in our family, I like to make the meal meatless—but flavorful enough to satisfy our carnivores.
Delicious Indian and Middle Eastern recipes never fail to please. That's why I was thrilled to find Spice Spoon where Shayma cooks up delicious Pakistani, Afghan and Iranian dishes from recipes passed down from her mother and grandmother.
My family loves Shayma's award-winning Spinach Dip in the Persian Manner and her Aromatic Scrambled Eggs.
And I admit I raided Shayma's kitchen to make this Red and Yellow Dal with Cumin Potatoes. It's actually a hybrid comprised of Shayma's divine potatoes and her dal.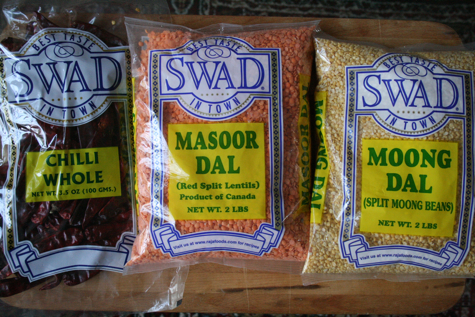 It couldn't be easier to prepare. You can make it on stove top or, for even lazier cooking, in your crockpot. Once you're simmering the onions and lentils—an inspired mix of red and yellow moong beans—you pan-fry cubed potatoes with garlic, turmeric and whole cumin seeds.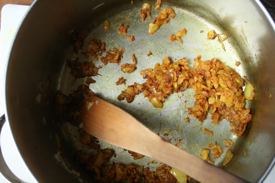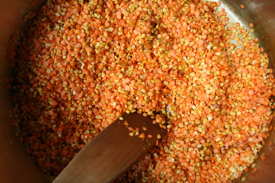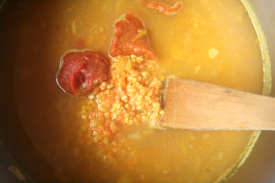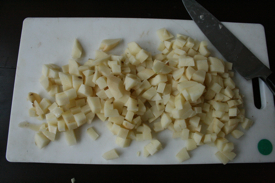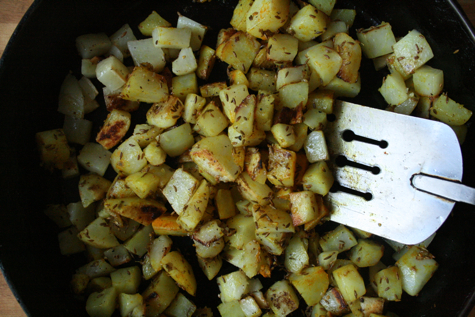 When the lentils are tender, fold in the onions and spice mixture. Then let the stew simmer a little longer to a delicious mushiness—no need to puree.
Just before serving, fold the fragrant, golden potatoes into the dal.
And now comes the Shayma-inspired touch that makes this dish soar above the ordinary: After spooning the dal into bowls, I trickle spice-infused oil over the stew. And a handful of fresh chopped cilantro.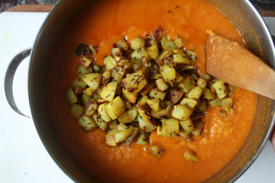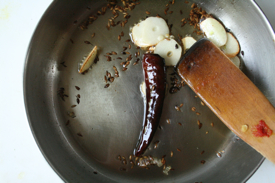 Your first bite of dal delivers a dizzying riot of flavors, textures, coolness and heat: hearty spiced lentil puree, unctuous chili-infused oil, and the cool, green, slightly soapy crunch of fresh cilantro.
I serve brown basmati rice on the side. And we tear off pita or Afghan shepherd's bread to dip in the dal.
Then I find my way back to the chaise lounge for one more little catnap before dessert and coffee.
Red and Yellow Dal with Cumin Potatoes
3 tablespoons safflower or other mild oil
1 clove garlic, crushed
1 onion, chopped
2 cups red lentils
1 cup yellow lentils
4 cups water—or more
2 Knorr's vegetable bouillon cubes (optional)
3 tablespoons tomato paste—about half a small can
3 medium potatoes, peeled and cubed
1 tablespoon whole seed cumin
¾ teaspoon cayenne pepper
2 teaspoons turmeric
1 teaspoon crushed red chili peppers
Kosher salt and freshly ground pepper, to taste
Fresh cilantro, chopped
Infused oil:
3 tablespoons safflower or other mild oil
1 clove garlic, sliced paper thin
1 long red chili pepper
1 teaspoon whole seed cumin
Salt and pepper to taste
Over medium flame, pour 1 tablespoon oil into a Dutch oven or other large, heavy pot.
When oil is hot, add chopped onion. Stir and fry until onion softens, about 5 minutes, adjusting flame so that onion does not burn.
Add a clove of crushed garlic, 1 teaspoon turmeric and cayenne. Continue to fry onions and spices to more fully develop spices' flavor—another 2-3 minutes.
Rinse lentils and add to onion mix. Cover with water and bouillon cube, if desired. Put lid on pot, bring to boil. Lower flame and let lentils simmer until almost tender—30-40 minutes—adding more water, if needed.
Meanwhile, in a large skillet, pour 2 tablespoons oil and heat over medium flame.
When oil is hot, add cumin seeds. When they "sputter" as Shayma says, quickly add the cubed potatoes, remaining teaspoon of turmeric, crushed red pepper and salt and pepper to taste.
Stir and fry the potatoes for 3-4 minutes. Cover pan, lower heat and continue to cook until potatoes are almost cooked through—about 7-8 minutes. Uncover pan and continue cooking until potatoes are tender inside and crispy outside. Turn off flame and set potatoes aside.
When lentils are almost tender yet still hold their shape, add the tomato paste. (I freeze the remaining paste right in its little can, covered with foil.) Continue to cook until lentils dissolve into a creamy puree.
While the dal finishes cooking, prepare infused oil: Heat 3 tablespoon oil in a small skillet over low flame. Add garlic and whole spices, stirring and cooking to release the spices' flavor—about 2-3 minutes. Be careful not to burn the garlic. Remove from flame and reserve.
When lentils are cooked, stir in pan fried potatoes. Add salt and pepper to taste—if you used bouillon cubes you may not need extra salt. Serve immediately with steamed basmati rice, if desired. Pass infused oil at table.
Serves 8.