Our family recently lunched at the Black Cat Café in Sharon Springs, New York where we ate a delicious Mulligatawny soup.
Then we piled into the Caravan and headed to Sap Bush Hollow Farm to buy our winter supply of grassfed meat.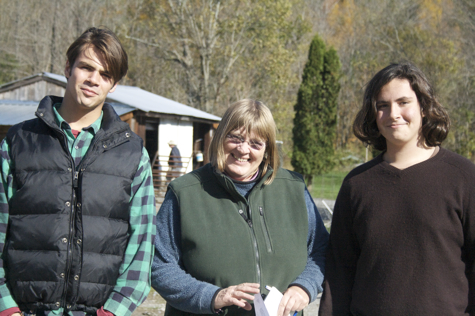 Driving home, our minvan packed with grassfed chicken and beef, we chatted about the recipes we'd like to try. We agreed we'd make a pot of Mulligatawny soup first thing.

Once home, I thumbed through my mother's vintage 1970s soup Bible, Soups for All Seasons. Bingo: I found a great basic Mulligatawny Soup recipe.

But you know how it is. I had to tinker with it.



We loved the Black Cat Café's addition of coconut milk. So we included coconut milk in our version along with potatoes; because, well, any time I can possibly add potatoes, I do.
Anglo-Indian Mulligatawny Soup mixes culinary traditions.
Thankfully, Mulligatawny Soup is an Anglo-Indian hybrid recipe with many variations.
In the Tamil dialect, "mulligatawny" means "pepper water"—and our version lives up to the moniker: Fresh ginger, garam masala, coriander and crushed red pepper lend complex flavor and a lot of heat. If you prefer a less searing soup, feel free to use a lighter hand with the spices.
Thick with lentils, diced carrots and celery and my beloved cubed potatoes, this Mulligatawny Soup is served with a turmeric-spiked rice pilau studded with yellow raisins and flaked coconut.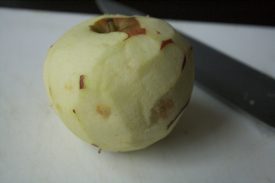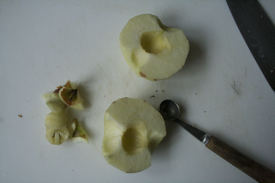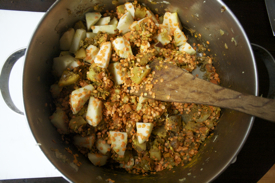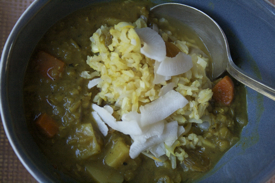 We also pass condiment toppings at table, see suggestions below. Doesn't everyone love to customize her bowl of soup?
Mulligatawny soup is a one-bowl meal. Just round it off with a loaf of crusty bread and you're set.
The following recipe makes a big batch of soup—enough to generously feed our family of five twice.
If you don't want to eat Mulligatawny Soup twice in one week—we did and made another huge batch just two weeks later—this chunky broth freezes beautifully.
Mulligatawny Soup recipe
1 onion, chopped
1 tablespoon grape seed or other mild oil–not olive oil
2 carrots, peeled and diced
2 stalks celery, diced
1 large potato, peeled and cubed
2 cloves garlic, crushed
1 teaspoon ground cumin
1 tablespoon Garam Masala, available at Indian grocery stores–or substitute curry powder
2 teaspoon ground coriander
1 teaspoon ground turmeric
1/2 teaspoon crushed red pepper
1 tablespoon fresh ginger, peeled and grated
1 1/2 cups red lentils
1 apple, peeled and cubed
2 quarts hot chicken or vegetable broth
2 cups boned chicken meat cut into bite-sized pieces (optional)
1 15-ounce can coconut milk
Juice of 1 lemon
In a large Dutch oven or heavy pot, heat oil.
When oil is very hot, toss in onions. Adjust flame, stir and fry onions for 2-3 minutes until they begin to soften.
Add carrots, celery and potato to pot and continue to fry, stirring occasionally, for another five minutes.
Add garlic to vegetables and fry for yet another minute or two.
Sprinkle cumin, Garam Masala, coriander, turmeric, red pepper and ginger over vegetables. Stir and fry vegetable and spice mixture to fully release the spices' flavors—about 2 minutes.
Toss lentils and apple into vegetable spice mixture, stir and cook for a minute or two.
Pour hot broth over vegetables and add chicken meat if desired. Bring broth to a boil, stirring to keep lentils from sticking together. Cover pot, reduce to low flame and gently simmer soup, stirring occasionally, until lentils are tender—about 30 minutes.
Add coconut milk and lemon juice and heat broth through.
Serve with Coconut Rice Pilau, see recipe below, and condiments, below.
Condiments for Mulligatawny Soup
Fresh chopped apple
Flaked coconut
Chopped peanuts or cashews
Sieved hard-boiled eggs

Coconut Rice Pilau Recipe

This Pilau also makes a great side dish with chicken.


Coconut Rice Pilau
1 tablespoon grape seed or other mild oil—no olive oil
1 scallion or 1 small onion, chopped fine
1 1/2 cups brown basmati rice
1 teaspoon turmeric
3 cups hot chicken or vegetable broth
1/3 cup golden raisins
1/4 cup sherry or apple cider for plumping raisins (optional)
1/3 cup flaked coconut
2 tablespoons butter
If you want to plump your raisins, pour sherry or apple cider over them in a small bowl and set aside.
In heavy pot over medium flame, heat oil.
Add scallion or onion and fry for 2 minutes, adjusting flame, if necessary.
Add rice and turmeric to pot. Stir and fry for about two more minutes to release turmeric's full flavor.
Add hot broth, raisins—along with sherry or juice, if you've soaked the raisins—coconut and butter.
Cover pot, bring to boil, then lower flame. Gently simmer until all broth is absorbed. Fluff pilau and serve.
Serves 6-8.