I'm calling this recipe Quick Creamy Cauliflower Soup because I happened to have a lot of cauliflower on hand this week. It looked especially nice and fresh at Westchester Greenhouse.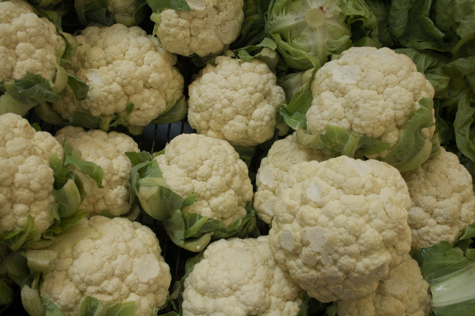 But you can call it Quick Creamy Any Vegetable Soup.
This flexible recipe works beautifully with just about any veggie that calls to you from your farmers' market. You're also guaranteed a pot of warm, creamy goodness making this soup with any of those vegetables wilting in your refrigerator bin right now. See suggested soup recipe variations below.
Quick Creamy Any Vegetable Soup is not only delicious, it's, well, quick. It cooks up in less than 30 minutes. Add crusty bread, grilled cheese sandwiches or a mixed salad and you've got dinner.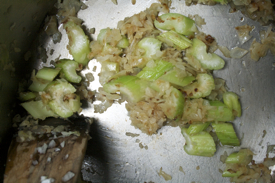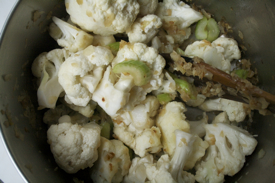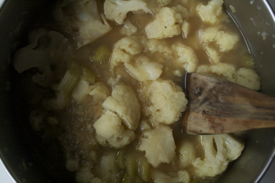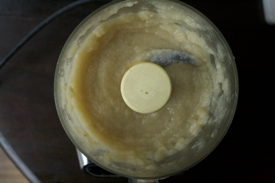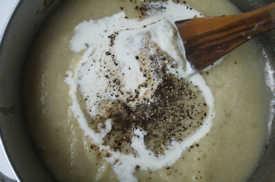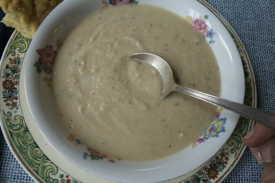 Quick Creamy Cauliflower Soup Recipe
1 small onion, chopped
1 stalk celery, thinly sliced
1 clove garlic, crushed
1 tablespoon extra virgin olive oil
1 head cauliflower, cut into flowerets
1 quart hot vegetable or chicken broth
dash of nutmeg
1/3 cup heavy cream
1/2 cup Parmesan
Kosher salt and freshly ground pepper to taste
In a Dutch oven or heavy pot, heat oil over medium high flame.
When oil is fragrant, toss in onion and celery. Adjust flame and stir. Fry vegetables until they begin to soften, about 3-4 minutes.
Add crushed garlic and fry for another minute.
Toss in cauliflower and stir to coat with vegetable and oil mixture. Fry the cauliflower for another five minutes or so, until it starts to turn golden on its edges.
Add broth, turn flame up and bring vegetables and broth to a boil. Cover pot, lower flame and simmer vegetables until very soft—about 15-20 minutes.
Remove vegetables and broth from stove. Scoop into a food processor and purée vegetables and broth until very smooth. Return purée to pot over low flame.
Stir in cream and nutmeg. Heat soup through.
Add Parmesan cheese to soup along with salt and pepper to taste. Stir until Parmesan is melted. Serve immediately.
Serves 4-6.
Variations on Quick Creamy Any Vegetable Soup
Quick Creamy Carrot Soup Recipe
Substitute:
1 pound of peeled sliced carrots for cauliflower
1 teaspoon dill for nutmeg
Quick Cream Zucchini Soup Recipe
Substitute:
3-4 medium zucchinis for cauliflower
1/2 teaspoon dried basil for nutmeg
Quick Creamy Broccoli Soup Recipe
Substitute:
1 head of broccoli for cauliflower
1/2 teaspoon basil for nutmeg
And skip the garlic and Parmesan cheese
Photo of carrots courtesy of Michael Newman
Photo of zucchini courtesy of Lollyknit