Over the holidays, I stumbled on Smitten Kitchen's superb Parmesan Black Pepper Biscotti. These rich, double-baked cheesy biscuits quickly became a holiday cocktail staple.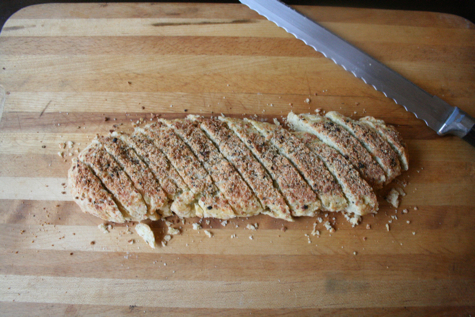 Naturally I wanted to serve the Biscotti to my food-loving son the day he came home from college for winter break. The recipe is so simple, I left preparation until the last minute. So when I swung open the refrigerator door, you can imagine my panic on seeing a tiny crumpled butter wrapper containing a tablespoon or so of butter.
Smitten Kitchen's divine Biscotti call for a full stick and a half of butter.
Oh, pooh. (Actually, I said another word.)
My heart was set on Parmesan Black Pepper Biscotti. It was too late to run to the store. Then my eye fell on a quart of extra virgin olive oil sitting on the kitchen shelf.
Well, maybe…
The long and short: Not only were the results not a disaster, my good friend Michele—an excellent cook with a discerning palate—tasted both butter and olive oil versions and prefers the latter.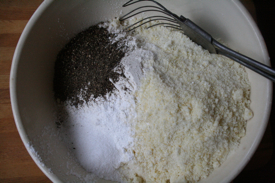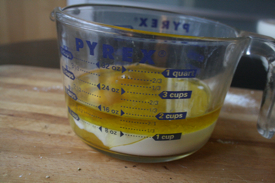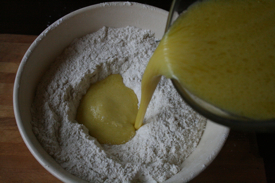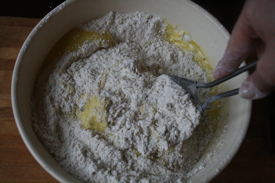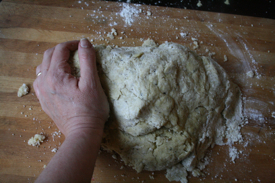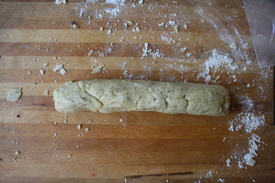 This recipe makes a lot of Biscotti. I usually bake half the dough into biscuits for immediate use, then roll the remaining dough into logs, wrap in wax paper and freeze them.
I feel so together when I can pull off tasty appetizers at the drop of a hat.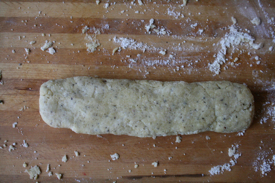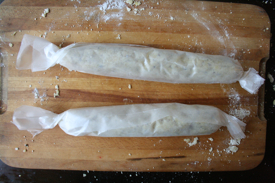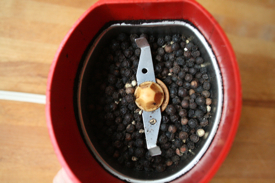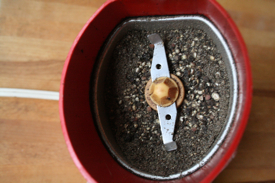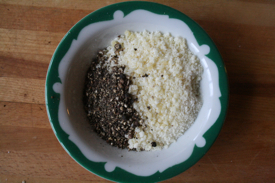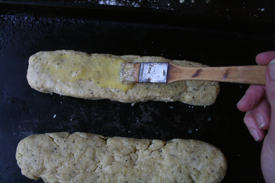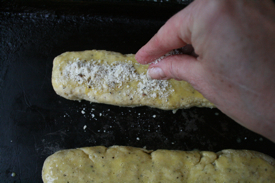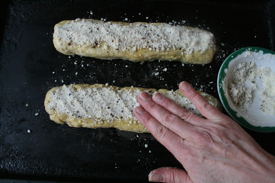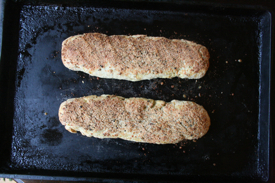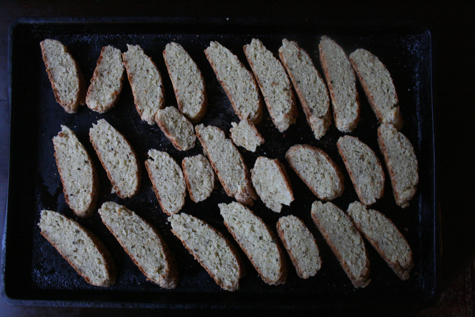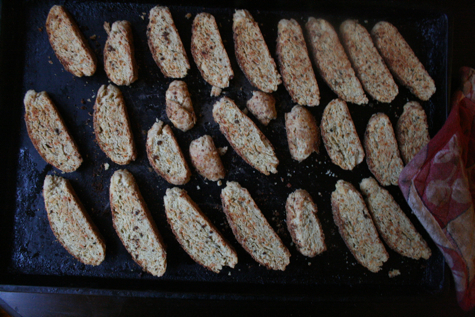 Olive Oil and Black Pepper Parmesan Biscotti
1 1/2 tablespoons whole black peppercorns
4 cups flour
2 teaspoons baking powder
2 teaspoons salt
2 1/2 cups Parmesan cheese, finely grated
3/4 cup extra virgin olive oil
4 large eggs
3/4 cup whole milk
Place oven racks in upper and lower thirds of oven. Preheat oven to 350 degrees.
Using a coffee or spice grinder—or mortar and pestle—coarsely grind the pepper corns.
In a large bowl whisk together the flour, baking powder, salt, 2 cups of cheese, and 1 tablespoon ground black pepper.
In a medium bowl or large measuring cup, blend the oil, 3 eggs and milk.
Add the oil/milk/eggs to the flour mixture, stirring with a whisk or fork to make a soft dough.
Place the dough on a lightly floured surface and divide into quarters—about 1 1/3 cup each.
Flour your hands and shape each quarter into a 12" log. At this point you may wrap the logs in wax paper, place in an air-tight container and store in fridge or freezer.
When ready to bake, thaw or bring dough to room temperature. Flatten the logs slightly to create a long log about 2" wide and 3/4" high.
Place logs 3" apart on 2 ungreased baking sheets.
Beat the remaining egg and brush it over the logs.
In a small bowl, combine the remaining 1/2 tablespoon crushed black pepper and 1/2 cup Parmesan cheese. Sprinkle mixture evenly over the logs.
Bake the logs, switching sheet position half way through baking. Bake until logs are pale golden and firm, about 30 minutes total.
Remove sheets from oven. Cool logs on sheets for about 10 minutes.
In the meantime, reduce oven temperature to 300 degrees.
Carefully transfer a log to a cutting board. Using a serrated knife, cut logs into diagonal ½" slices.
Arrange the slices in a single layer on a baking sheet. Repeat with remaining logs.
Bake Biscotti, turning slices over once midway through baking, until they are crisp and golden on both sides, 35-45 minutes total.
Cool Biscotti on sheets on racks until cool enough to handle—about 10 minutes—and serve.
Biscotti may be kept in an air-tight container at room temperature up to two weeks.
Makes about 5-6 dozen Biscotti.