There's a lot going on in a bowl of Easy 20-Minute Thai Red Curry Soup.
Chockablock with broccoli, red peppers and julienned yam "noodles," the vegetables are bathed in a savory, aromatic and fiery broth. Unlike a lot of all-veggie dishes, this soup gets stick-to-the-ribs heartiness from crispy fried tofu and meaty shitake mushrooms.
While officially a "soup," it turns into a "bowl" with the addition of a scoop of steamed rice, quinoa or buckwheat.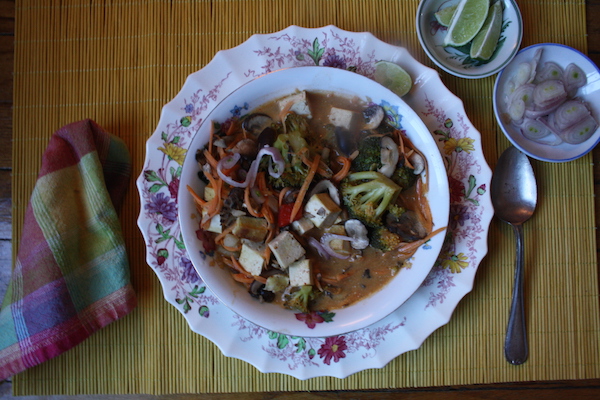 Secret Ingredient Amps Flavor
The soup owes it's complex and addictively delicious flavor to a cheat ingredient: Thai red curry paste. Available at Asian groceries and supermarkets, the paste is a food-transforming puree of chili peppers, garlic, shallots, lemongrass, Kafir lime, galangal and, like we copywriters always say, so much more.
The piquant pesto instantly amps up flavor and fire in stews, soups, sauces and salad dressings.
I use about two and half tablespoons of red curry paste for this recipe. For additional heat, try substituting one tablespoon of Inferno-esque Thai green curry paste—also available at Asian groceries—for the red paste.
One Pot + 20 Minutes = Soup's On
This one-pot recipe requires no sautéing or additional steps other than pre-soaking the dried mushrooms. If you're in a hurry, you can skip frying the tofu and just dump it into the broth along with the vegetables.
Easy 20-Minute Thai Red Curry is a favorite weekend cookathon recipe here at Copywriters' Kitchen. I whip up a huge vat on Sunday and ladle the soup into Mason jars for weekday meals.

Stacked in the fridge, the cheery jars go a long way in easing those I-need-one-more-day-of-the weekend Sunday night blues!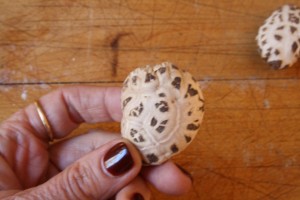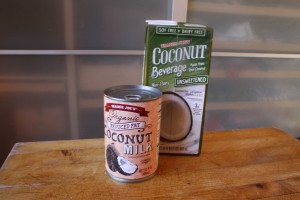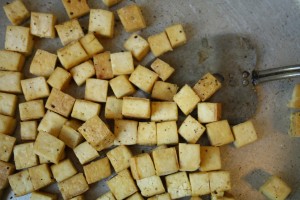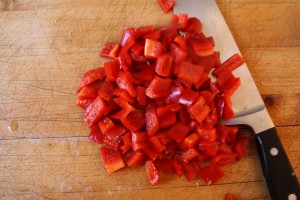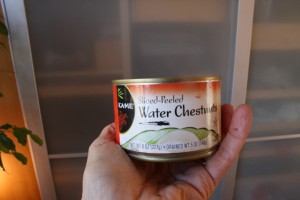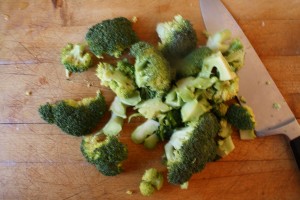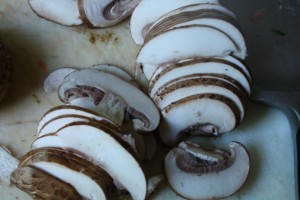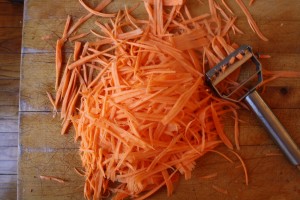 While officially a "soup" this recipe is more a "bowl." It's chockablock with vegetables and yam "noodles" lightly bathed in ultra-flavorful broth. Crispy fried tofu chunks and meaty shitake mushrooms lend stick-to-the-ribs heartiness.
Best of all? You can ladle up a steaming bowl of this crunchy, spongy, creamy, coconutty, spicy flavor-packed goodness in 20 minutes, start to finish.
Easy 20-Minute Thai Red Curry Soup
2 ounces dried shitake mushrooms—available in Asian markets, or use extra fresh mushrooms.
Boiling water
1-2 teaspoons coconut oil
1 pound extra-firm tofu
Salt and pepper to taste
2-3 tablespoons Thai red curry paste
1 tablespoon fresh grated ginger (optional)
1 large clove garlic (optional)
4 cups hot vegetable broth
3 cups light coconut milk and/or coconut beverage
Head of fresh broccoli, washed and chopped
1 large red pepper, washed, cored, seeded and diced
1 8-ounce can water chestnuts, drained and chopped
8 ounces baby bello mushrooms, washed, trimmed and sliced paper-thin
1 medium yam, peeled and julienned into noodle-size strips
Garnish
1 cup fresh cilantro, chopped
½ cup sliced red onion, shallots or scallions
1 lime, cut into wedges
Cooked white rice
If time permits, soak the dried shitake mushrooms a few hours—and up to eight hours—ahead of time. If time-pressed, the following quick-soak will do. In medium bowl, cover dried mushrooms with boiling water—about 1½ cups. Turn mushrooms button-side down and weight with a small plate. Note on buying shitake mushrooms: Choose whole mushroom caps with deep white fissures, see photo above. More flavorful—and more expensive—than non-fissured mushrooms, the fissured variety are sometimes labeled hana, or "flower" mushrooms.
Cut tofu into ½" cubes.
In a flat-bottomed stockpot, heat a teaspoon of coconut oil over a medium flame until it begins to smoke.
Dump tofu into the pot and spread to form an even layer. Sprinkle with salt and pepper. Do not jostle the tofu, let it fry on one side, turning flame down if needed, until one side of tofu is golden. Using a spatula, scrape and scramble the tofu, scraping every 3-4 minutes to fry until golden all over. Remove and reserve the tofu. Scrape the pan clean of any bits of fried tofu, wiping with a paper towel, if needed. Note: Pressed for time? Forget about frying the tofu—reserve the raw cubes and add them along with vegetables, see step 14, below.
Place pot back on stove, add one teaspoon coconut oil and turn flame to medium. Tilt pan to spread oil over pan bottom and heat oil until almost smoking. Add the curry paste and ginger and garlic, if desired.
Cook the paste for a few minutes to release the spices' full flavor, lowering flame if needed.
Add hot broth and coconut milk or coconut beverage. I use 2½ cups Trader Joe's Coconut beverage and ½ can of coconut milk. If you prefer a richer broth, use more coconut milk and less beverage.
Bring broth to a boil, lower to a simmer and let cook down for 15 minutes.
In the mean time prepare vegetables. Wash, trim, cut broccoli into flowerettes and dice broccoli stems. Reserve.
Wash, core, seed and dice the red pepper. Add to broccoli and reserve.
Open water chestnuts, drain and dice.
Thinly slice fresh mushrooms.
Squeeze soaked shitake mushrooms and reserve soaking water. Slice mushrooms thinly.
When broth has cooked down, add broccoli, red pepper, water chestnuts, shitake mushrooms and reserved shitake soaking water. If you have not fried tofu cubes, you may add raw cubes at this point. Stir gently to incorporate all ingredients. The heat of the broth will cook the vegetables, so no need to turn up flame.
As veggies cook, peel and julienne the yam, using a spiralyzer or julienne utensil. Note: Don't peel yams ahead of time: they oxidize and turn brown quickly.
Dump julienned yams, fresh mushrooms and, if using fried, rather than raw tofu, add the tofu now. Sir gently to incorporate. Cover the pot, turn off flame, and leave the veggies to finish cooking in the hot broth for five minutes.
Spoon into big bowls and garnish with chopped cilantro, red onion or scallions (or shallots), a squeeze of lime and dollop of white rice, if desired.
Serves six generously.
---
"Wake Up" image courtesy of Wikimedia.