Workplace comfort food wields a double-edged sword.
That peanut butter spooned from the jar. The sugary granola bars. Those everything-but-the-kitchen-sink salads from the "healthy" lunch bar on your block.
Indulge and your fatigue and foul mood vanish immediately.
Momentarily.
Within minutes of eating sugar- and fat-heavy food, my stomach knots and concentration drifts out the 12th story window of my NYC office.
The post-food fugue state is special torture after lunch. Because unlike, say, Barcelona or Rome where your boss might encourage you to slug down a Fernet Branca and take a nap, in the Big Apple, management actually expects you to work for the rest of the afternoon.
Comfort food sans soporific
That's why I'm so in love with this Mason Jar Veg Confetti Tofu Chop Salad.
Layered in crystalline glass jars, the salad's julienned and chopped zucchini, carrots, red pepper and purple onion are a feast for the eyes.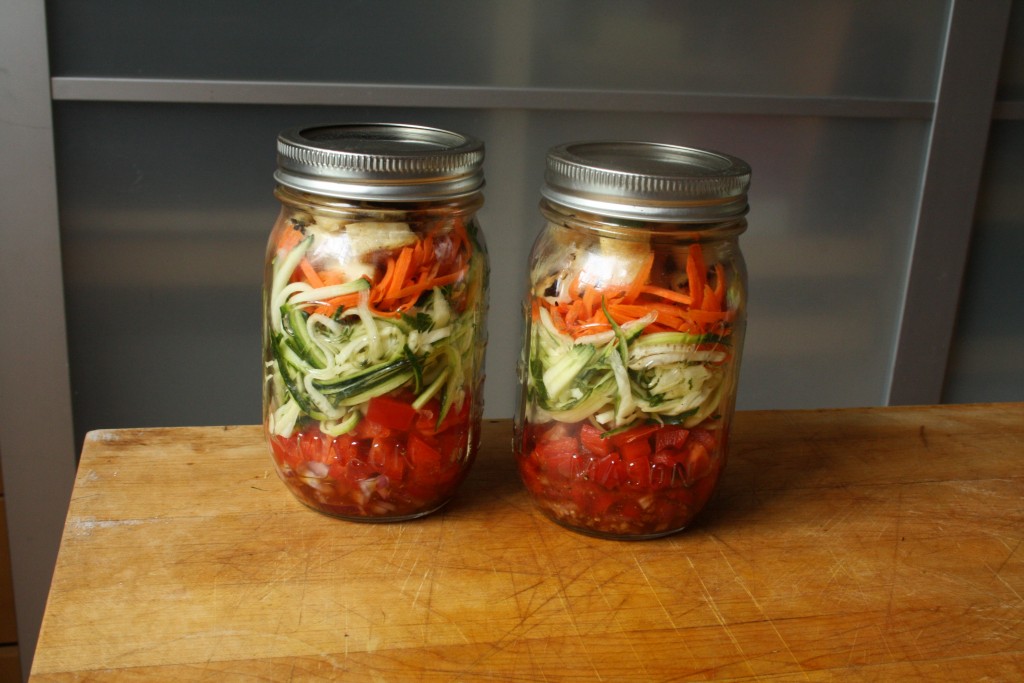 Tossed in a bowl and lightly bathed in sweet-and-sour sesame lime sriracha dressing, the salad eases all your pain points and satisfies all your (food-based) core desires—remember, I am a marketing copywriter so I think this way—exploding with fresh taste and crunchy texture.
Best of all, with its substantial veggies and coconut-scented fried tofu, Veg Confetti Tofu Chop Salad leaves you pleasurably full and fueled for hours. Without narcotic side effects.
Easy Make-ahead Prep
As an added bonus, julienne salads stay crunchy for days. If you gently squeeze out excess water and store in airtight jars, you may, like me, find these thin-stripped vegetables stay fresh for your entire workweek.
No wonder this recipe is a staple in my weekend cookathon.
To julienne the veggies, I use a Y-type peeler-thingie.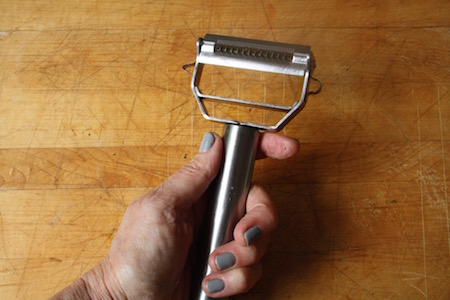 But you could use a spiralizer, food processor with julienne disk or a plain old grater—lay the grater horizontally to shred longish strips of veggies.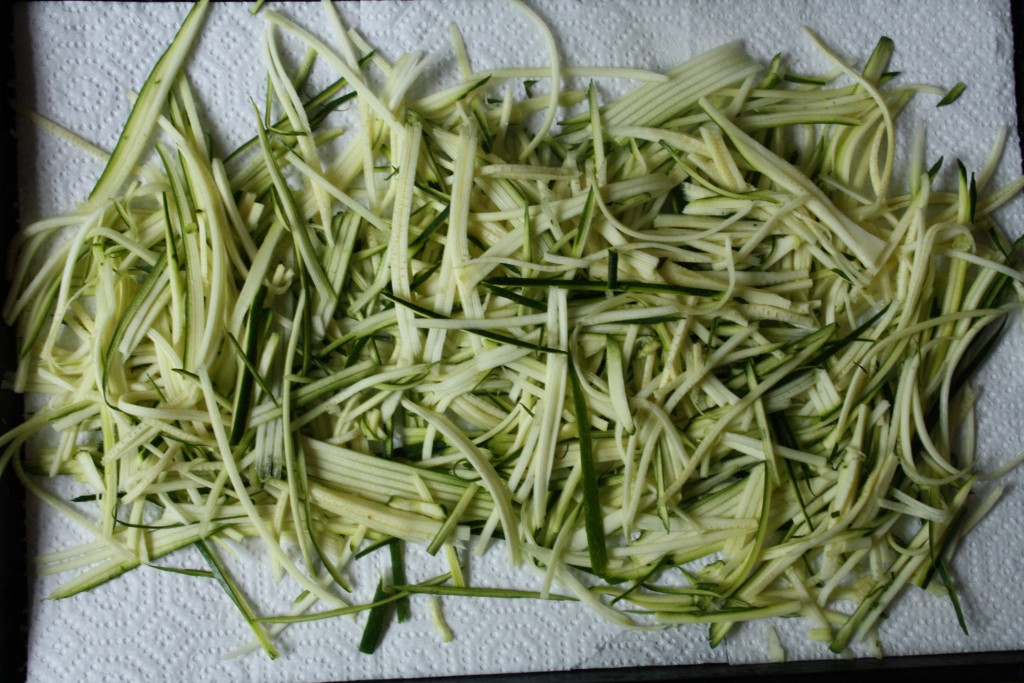 This recipe also makes a wonderful soba bowl—perfect for light summer suppers. Just plunk a few generous forkfuls of buckwheat soba noodles to the dressed salad. The hot noodle + cold veg combo is out of this world.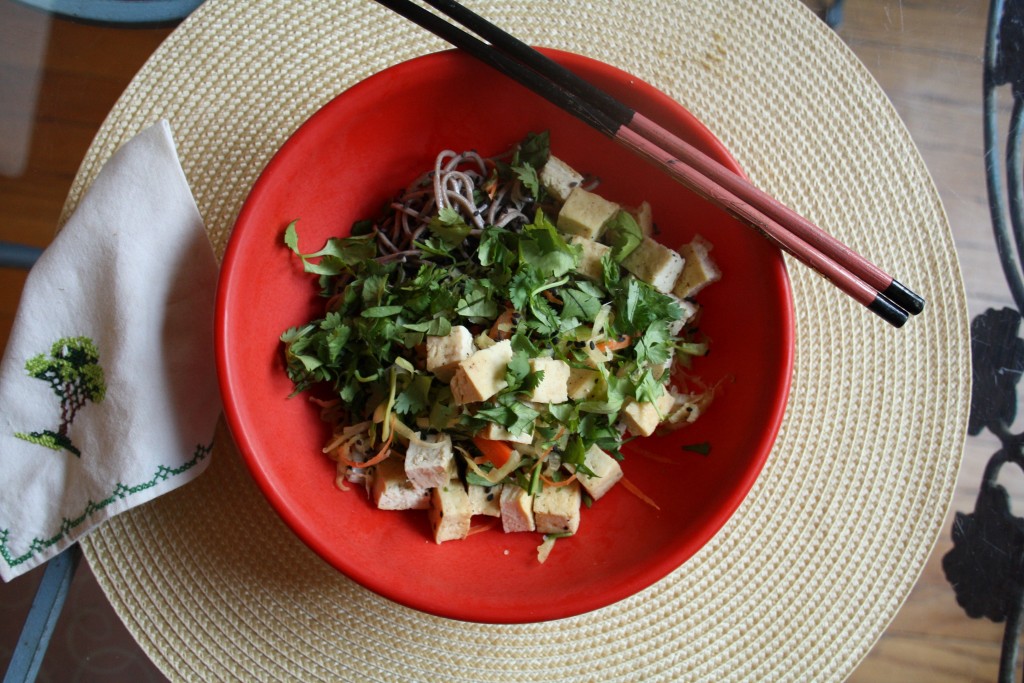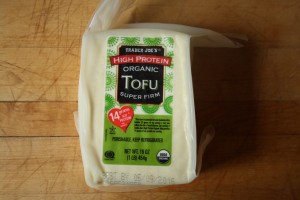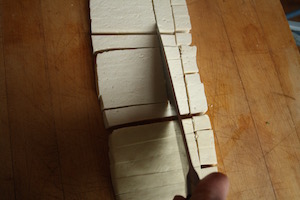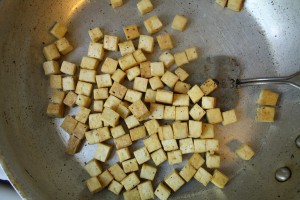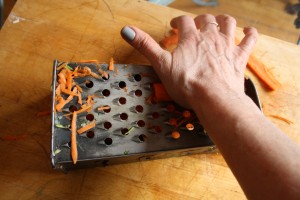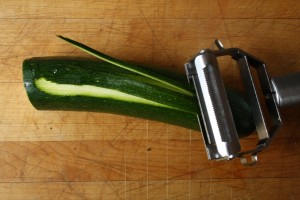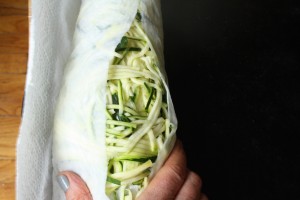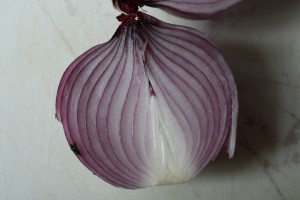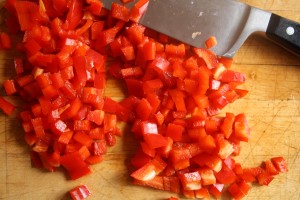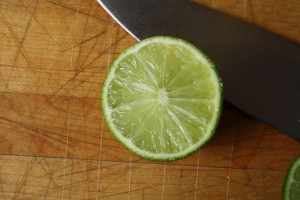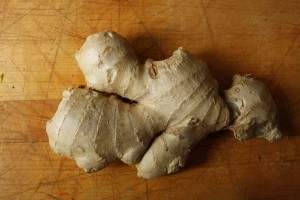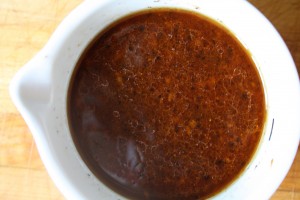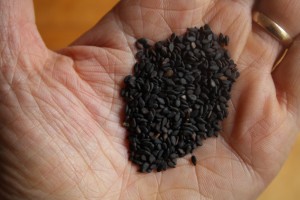 Mason Jar Meal: Veg Confetti Tofu Chop Salad
Salad
1 pound extra-firm tofu, I like Trader Joe's Organic Super Firm variety
3 medium zucchinis, washed and trimmed
3 medium carrots, peeled
1 large red bell pepper, washed and diced
1 medium purple onion or 6 scallions, chopped
2 teaspoons coconut oil
Salt, pepper, garlic powder
Dressing
1 tablespoon soy sauce
1 tablespoon toasted sesame oil
1 tablespoon olive oil
2 tablespoons rice vinegar
1 tablespoon agave nectar or maple syrup
2 teaspoons sriracha sauce
Juice of one lime
1 clove garlic, crushed
1/2 teaspooon finely grated ginger
Black pepper, coarsely ground
Garnish
1 cup fresh cilantro, washed, de-stemmed and roughly chopped
2 tablespoons black sesame seeds
4 ounces buckwheat soba noodles, boiled to al dente stage (optional for "bowls")
Four 16-ounce Mason jars or other sealable 2-cup containers
Slice tofu horizontally into four slabs. Slice the slabs into ½" cubes.
In a large skillet over a medium high flame, heat the coconut oil until it's fragrant and wafts of hot air begin to rise from the pan.
Using a spatula, transfer cubed tofu into the skillet.
Season tofu with salt, pepper and garlic powder to taste.
Lightly brown tofu on one side, adjusting flame as needed. Carefully flip the tofu slabs, trying to keep cubes close together to help them cooked evenly.
When second side of tofu is cooked, break up any cubes and scramble them so they brown on all sides. Scoop cubes onto a plate or cookie sheet lined with double layer of paper towel and allow tofu to cool.
In the meantime, wash and trim zucchini. Grate or julienne into thin strips. Place zucchini on a jelly roll pan or cookie sheet lined with a double layer of paper towel or an old tea towel. Sprinkle zucchini lightly with salt and toss. Let the zucchini sweat for 15-20 minutes. Gently roll up the zucchini inside the towel, so excess water is absorbed, then unroll.
Peel, trim and julienne carrots.
Wash, core and dice red pepper.
Trim and dice onion or scallion.
Wash the cilantro well in a bowl of water. Pull off the leaves and spin in salad spinner or pat dry thoroughly with paper towels. Roughly chop the cilantro.
Prepare dressing. In a separate bowl or small Mason jar, blend all dressing ingredients.
Spoon a tablespoon of dressing into a 16-ounce Mason jar. Repeat, spooning a tablespoon of dressing into each of the remaining Mason jars.
Divide the onion/scallion into four portions and spoon on top of the dressing.
Divide the red pepper into four portions and spoon on top of the onion/scallion.
Divide the julienned zucchini into four portions and layer on top of the pepper.
Divide the julienned carrots into four portions and layer on top of the zucchini.
Divide the tofu cubes into four portions and layer on top of the carrots, pushing down and slightly compressing layers to fit tofu.
Divide the chopped cilantro into four portions and sprinkle over tofu.
Sprinkle a teaspoon of sesame seeds over each jar of salad. Screw lids on jars and store in fridge. Salads stay crisp in fridge for 3-4 days.
To serve, invert jar to empty salad into a large bowl and toss to coat veggies with dressing.
To make a Veg Confetti Tofu Chop Bowl, boil soba noodles to al dente stage. Drain, divide noodles into four portions and add to dressed salads.
Serves 4.