Mason jars are having a moment. Again.
A fixture in 19th century farm kitchens, the sturdy canning jars are today as likely to cradle a Bushwick microbrew as a pint of pickles.
My grandmother would have been amused.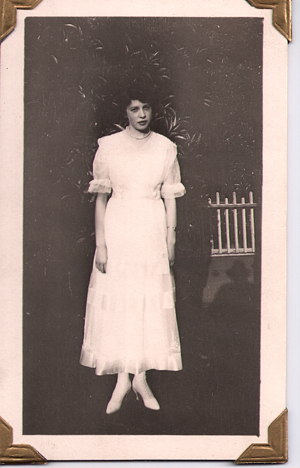 Born in the San Joaquin Valley in 1898, Grandma used Mason jars to "put up" the Valley's cornucopia of vegetables and fruit along with delicious jams, jellies, conserves, relishes and chowchows.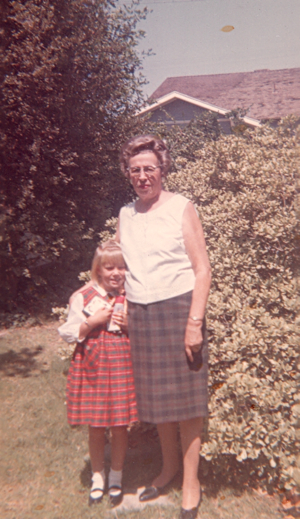 No wonder the fat rounded jars connote comfort food in my mind. Along with the benefits of glass over plastic food containers, I love the homey touch Mason jars bring to the packed meals I tote to my work in NYC.
Parfait Cure for Monday Morning Blues
This Overnight Oats Cherry-Berry Parfait is one of my go-to portable breakfasts. The recipe is a simplified riff on the Oh She Glows' vegan version.
You soak oats in a mixture of coconut milk—I use Trader Joe's coconut beverage—lightly sweetened with maple syrup or dark agave. To the porridge, add a few seeds of freshly crushed cardamom.
Heat the fruit in a saucepan for just a minute, then leave it to plump and cool. It sets to a soft, sweet-tart jam, thickened by chia seeds and bursting with seedy berries and fat, fleshy cherries.
I make a batch over the weekend and spoon the layers into 8-ounce Mason jars, ready to throw into my backpack.
Just knowing it's there—in all its coconut milky, cardamom-perfumed, berry-cherry layered glory—comforts.
It's especially consoling on Monday mornings after a weekend you wish were one day longer.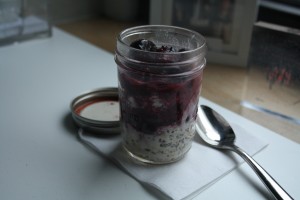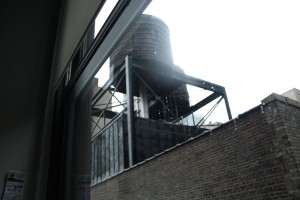 Mason-Jar Meal: Overnight Oats Cherry-Berry Parfait Recipe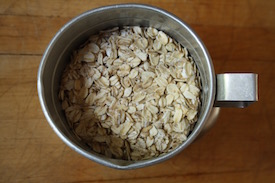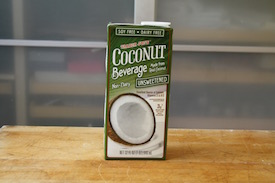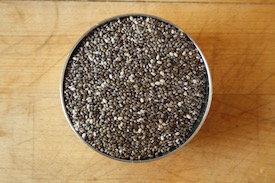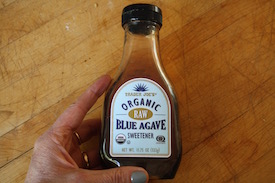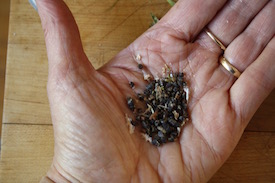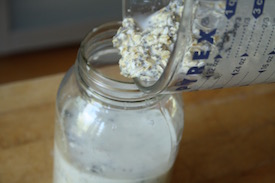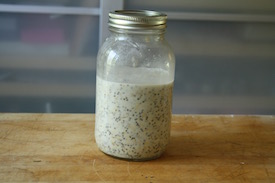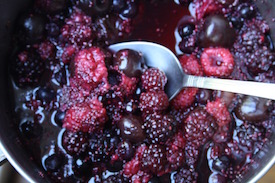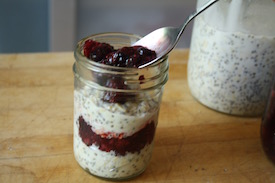 For the oats:
1 ½ cup old-fashioned oats—don't use the quick-cooking variety
2 cups coconut milk, nut milk or other non-dairy milk
2 tablespoons chia seeds
2 tablespoons agave nectar, maple syrup or barley syrup
1 teaspoon green cardamom seeds, ground or ½ teaspoon ready-ground cardamom
Pinch of Kosher salt
For the jam:
16-ounce bag frozen berries. I use Trader Joe's Very Cherry Berry Blend.
2 tablespoons chia seeds
2 tablespoons agave nectar, maple syrup or barley syrup
In a medium saucepan, dump the berries, chia seeds and agave nectar.
Turn flame to medium, cover saucepan and bring to a simmer.
Remove pan from flame, stir gently, cover and let sit until cool. Spoon into a large Mason jar or other container—I prefer glass food storage—and refrigerate.
In the meantime, mix the oats. In a medium bowl, stir oats, coconut milk, chia seeds and agave nectar.
Grind the cardamom seeds, if you're using the whole spice version.
Stir cardamom and salt into the oat mixture. You'll notice the chia seeds float to the top.
Place the bowl in the fridge for an hour or two, stirring occasionally to blend chia seeds and let mixture thicken.
Pour oats into a second large Mason jar and chill over night.
In the morning, spoon the oats and cherry-berry jam in layers into five 8-ounce Mason jars. Store in fridge—the parfaits will keep for five days.
Serves 5.