My favorite produce stand is a suburban oddity: Westchester Greenhouse is a farm in the middle of Westchester County, a leafy suburb just north of New York City. Its 15 acres wedge into a corner plot of farmland girdled by homes and two-lane thoroughfares.
To the west, Westchester Greenhouse abuts Poet's Corner, a hamlet of neatly groomed 1950s ranch houses and Cape Cods built on 26 streets named for poets: Tennyson, Burns, Poe…
To the east, single-family homes and country clubs roll across wooded roads until you hit Central Avenue, a 30+mile commercial artery crammed with franchises, mom and pops and chain stores.
In the spring, summer and fall, Westchester Greenhouse stocks fresh produce. After Thanksgiving they sell Christmas trees, wreaths, garlands and poinsettias. Then the farm shuts down until early spring.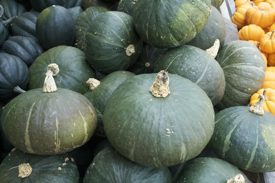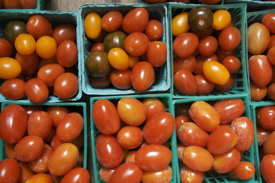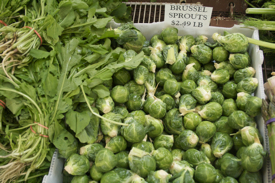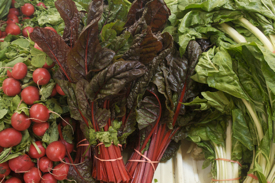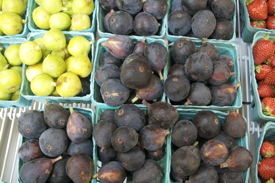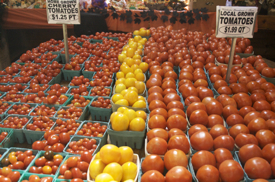 We know warm days are near when potted Easter lilies appear at Westchester Greenhouse. The produce trickles in slowly at first. But every few weeks you find greater quantities and more flavorful varieties. By August the farm is a riot of contrasting colors and shapes as fruits and vegetables pile up in bins.
I'm usually abstemious, but in summer I let myself go. I gorge on as much Westchester Greenhouse summer fruit as I like. And I like a lot—white nectarines, yellow New York State peaches, small local strawberries and perfumed yellow, red and purple plums.
It's seasonal. It's local. But not in a pretentious stuff-white-people-like, more-organic-than-thou way.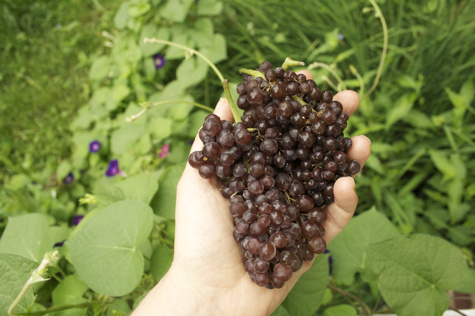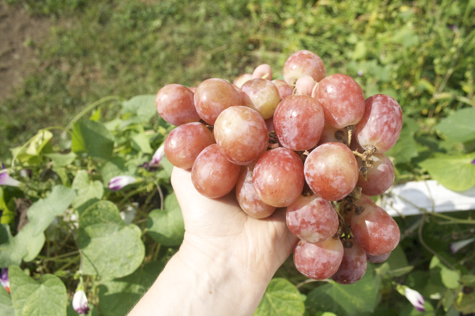 Celebrating localism and diversity without indulging in elitism
In an age obsessed with the sourcing, philosophy and ethics of food, it's easy to slip into elitism. Westchester Greenhouse doesn't.
Without positioning them as rarities and pricing them as precious metals, the farm stocks all kinds of lovely old-fashioned produce. As recently as a few years ago, they almost apologetically sold oddball vegetables and fruits for lower than supermarket prices.
Since then, Westchester Greenhouse has become savvier—and I'm glad because I want them to stay in business.
But prices—for New York State fingerling potatoes, Champagne grapes or 10 varieties of local apples, for example—are still well below Whole Foods or Union Square Greenmarket levels.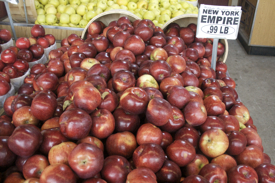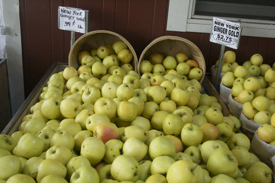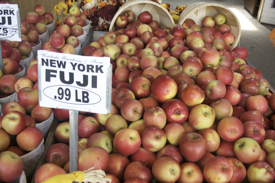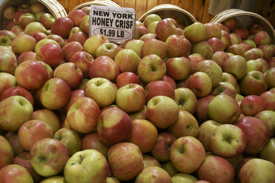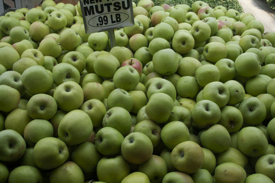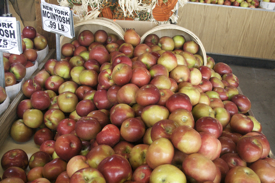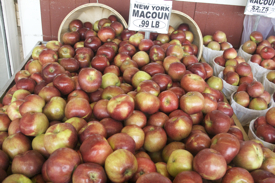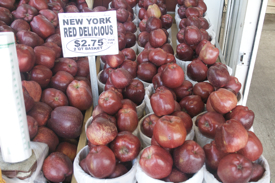 Farm Bargain Corner: Too much of a good thing is wonderful.
What's more, Westchester Greenhouse has a bargain corner. The workers cull less-than-perfect looking—but perfectly delicious—vegetables and very ripe fruits along with current bumper crops. They stack these vegetal goodies into two-quart baskets and sell them for low, low prices.
Last week's bargain corner yielded baskets of small golf-ball sized onions, limes, a mixed medley of end-of-summer fruits and jalapeno peppers all for $1.69 per two-quart basket—along with very ripe bananas for $.29 a pound.
Here's how I managed the bargain bounty:
Over ripe bananas: At less than 30 cents a pound, I couldn't resist nabbing everything on the shelf—at least ten pounds of luscious bananas. Once home I whipped off their skins and froze them on cookies sheets. When they were solid I transferred the bananas to large Ziploc bags. We'll enjoy them in breads, muffins or, our current favorite, all-banana, no-sugar ice cream.
Limes were squeezed and their tangy juice poured into ice cube trays. After freezing the juice I pop the cubes out and store in a glass food container. We use them in any recipe calling for fresh limejuice. And a frozen limejuice cube makes a delightful addition to a gin and tonic, sangria or margarita on the rocks.
Ripe summer fruits went into a cobbler immediately with enough stewed fruit leftover to freeze for a future dessert. We'll enjoy the peaches, plums—and summer memories—even more in November.
Jalapeno peppers were minced, scooped into ice cube trays, covered with water and frozen. This is a great way to put up fresh herbs as well.
Visit Westchester Greenhouse
Westchester Greenhouse now has a large variety of full-flavored local apples, most selling for $.99 a pound, as well as a wide variety of seasonal produce. With loads of pumpkins to choose from and free hay rides on the weekends, the farm is a wonderful place to take your kids.
Westchester Greenhouse
450 Secor Rd
Hartsdale, NY 10530
914-693-2935