I never had a bone to pick with commercial chili powder until I ran out of it one day. I was in the middle of whipping up Hearty Red Pepper and Corn Vegetarian Chili when a frantic search through my 133 spice bottles revealed no chili powder.
A quick online inquiry delivered a number of basic chili powder recipes. I adapted a mixture from recipes found here and here.
A easy as it is to make, Homemade Chili Powder's flavor is a revelation. The mix of smoky paprika, cumin and various peppers delivers fiery, nuanced chili taste.
Homemade Chili Powder markedly improved my already-pretty-good Hearty Red Pepper and Corn Vegetarian Chili, see recipe below. I also use the Chili Powder on fajitas, dips and eggs.
Please mix up a batch and see. I don't think you'll ever go back to store-bought.
The Hearty Red Pepper and Corn Vegetarian Chili was inspired by my vegetarian daughter, Lily. It's so full-flavored and satisfying, even the most carnivorous child in our family found it palatable.
Copywriters' Kitchen Homemade Chili Powder
6 tablespoons paprika
4 tablespoons cumin
4 tablespoons oregano
2 teaspoons cayenne
1 tablespoon red pepper flakes
1 teaspoon black pepper
1 teaspoon garlic powder
In a small bowl, mix all ingredients together.
Place in air-tight container and store.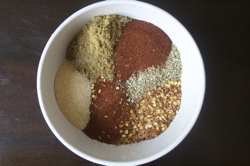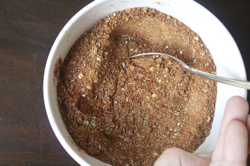 Hearty Red Pepper and Corn Vegetarian Chili
1 large onion, chopped fine
1 red pepper, cut into ½" pieces
1 carrot, diced
1 tablespoon extra virgin olive oil
2 cloves garlic, crushed
1 minced jalapeno pepper
2 tablespoons corn meal
3 tablespoons homemade chili powder—okay, you can also use store-bought
1 heaping tablespoon Demerara or brown sugar
1 28-ounce can tomatoes, chopped
1 cup water
4 cups pinto beans
1½ cups fresh or frozen corn
Kosher salt to taste
In advance of making chili, cook pinto beans. Rinse a pound of pintos, pour into crockpot, cover with water and add 1 teaspoon salt. Cover pot and simmer for several hours. Or cook beans traditionally according to directions on package. Spoon out and reserve 4 cups of beans.






In a Dutch Oven or heavy pot, heat oil until hot and fragrant. Add onion.
Sauté onion until softened, about 3 minutes.
Add crushed garlic and sauté another few minutes.
In the meantime, chop red pepper, dice carrot and mince jalapeno.
Add chopped vegetables to onions and garlic. Stir and fry until vegetables soften—about 5-6 minutes.
Add cornmeal and chili powder. Stir to coat vegetables, lower flame and cook for 2-3 minutes to release spices' full flavor.





Stir tomatoes, water and sugar into vegetable chili mixture. The mix will be soupy—it needs to cook down to fully develop texture and flavor.
Bring tomato-chili sauce to boil, lower flame. Simmer for at least 30-40 minutes and up to 2 hours—the longer the better. Add more water ½ cup at a time, as needed.
About ten minutes before you're ready to serve, add drained pinto beans and corn and simmer until heated through.
Serve with rice and/or cornbread and a variety of toppings.
Chili toppings
Grated cheddar or Monterey Jack Cheese
Sour cream
Chopped onion
Minced green pepper

Serves 8.