The days are getting cooler and shorter. At my local farm stand bins overflow with late harvest vegetables.
Perfect timing for Hearty Minestrone Soup.
Thick with beans, pasta, Parmesan cheese and a riot of your favorite vegetables—in Italian minestrone means "hodgepodge"—this soup is a one-bowl meal.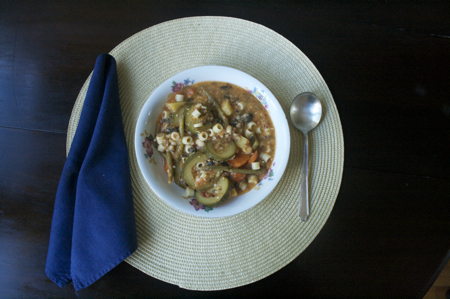 Feel free to fool around with this recipe: You can add as many kinds of vegetables as you like, substitute garbanzos or other legumes for the white beans and use any shape pasta, or even rice, if you prefer.
The recipe below makes a double portion. I use half immediately and freeze the second half for another meal.
For a taste sensation, try floating a teaspoon of summer pesto on top of each bowl and serve with crusty rustic Italian bread.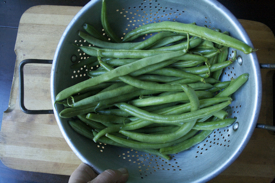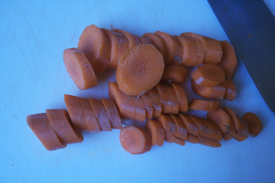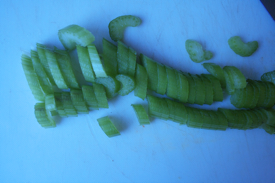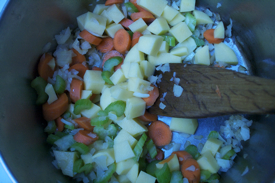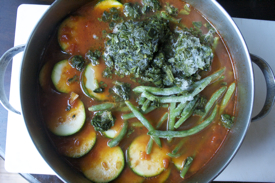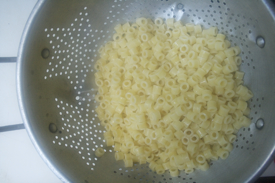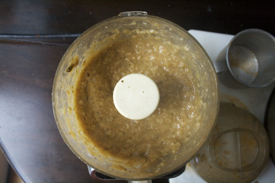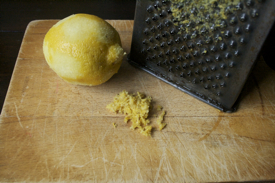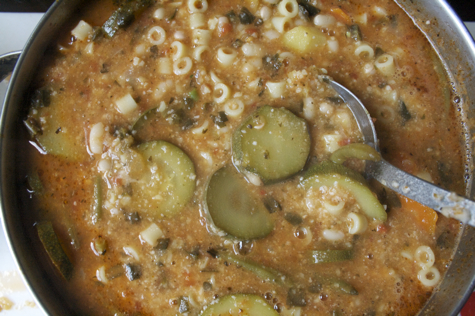 Hearty Minestrone Soup Recipe
1 medium onion, chopped medium fine
3 tablespoons olive oil
2 cloves garlic, crushed
2 stalks celery, thinly sliced
2 carrots, peeled and sliced
1 medium potato, peeled and cubed
2 quarts hot vegetable or chicken broth
2 medium zucchini, thinly sliced
2 cups green beans, fresh or frozen
1 ½ cup chopped spinach, fresh or frozen
1 28-ounce can Italian tomatoes, chopped
2 cups other vegetables of your choice—peas, squash, peppers, etc. (optional)
2 teaspoons basil or oregano
2 cups cooked white beans, or two 15-ounce cans
2 cups small pasta such as elbow macaroni, penne or ditalini, cooked
1 cup Parmesan cheese, grated
Zest of one lemon, finely grated
Kosher salt and freshly ground pepper to taste
½ cup pesto (optional)
If you are using dried beans, wash, pick over and cook them at least three hours in advance of starting soup.
Chop onion fine—I use a mini-food processor.
In a stock pot or large Dutch oven, heat 2 tablespoons olive oil over medium flame.
When oil is fragrant, toss in onion. Pan fry for 2-3 minutes, stirring occasionally and adjusting flame to keep onion from burning.
Add garlic, celery, carrots and potatoes to onions, stirring and cooking vegetables for another five minutes or until the onions are limp.
Add hot broth. Cover pot and bring broth to a boil.
In the meantime, in a separate large saucepan or pasta pot, cook the pasta. When done, drain then pour pasta back to cooking pot. Toss with 1 tablespoon olive oil to keep pasta from sticking together. Reserve pasta until ready to add to soup just before serving.
When broth comes to a boil, add zucchini, green beans, spinach, chopped tomatoes and other vegetables of your choice, if desired. Stir in basil or oregano and pepper. Don't add salt at this point: You will be stirring in Parmesan cheese later and the cheese adds quite a bit of saltiness.
Cover pot, bring to boil then lower flame to keep broth slowly simmering until vegetables are tender—15-20 minutes.
Stir beans and pasta into soup and heat through.
Stir Parmesan cheese and lemon zest into soup.
To thicken soup, scoop 4 cups of soup—include beans, veggies and pasta—into a food processor. Purée until smooth—you may need to process in two batches. Add purée back to soup, stirring to incorporate. Serve soup immediately, topped with a teaspoon of pesto, if desired. Pass extra Parmesan cheese at table along with slices of hearty Italian bread.
Serves 16.