This rich, sweet cobbler was one of my grandmother's signature recipes.
She often served it to my brother, sister and me on our visits to her home in Porterville, California in the 1970s.
Each summer we kids stayed for a few weeks with Grandma, traveling—without adults!—by train from our home in the San Francisco Bay Area to Grandma's.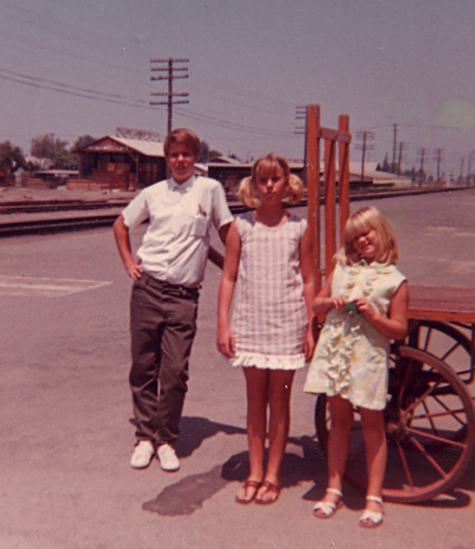 A proper Edwardian lady, Grandma ran her home with gracious formality. I remember she spooned this homey cobbler onto her "everyday" Wedgewood, the syrupy fruit pooling prettily in the creamy white bowls.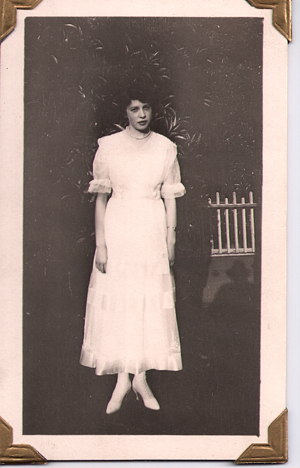 Lucky me, I inherited not only Grandma's china, but also her extensive recipe collections.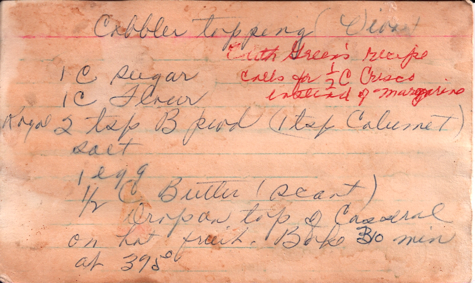 Family recipes keep loved ones alive
Along with culinary instruction, vintage recipes often tell family stories: I identify this summer dessert as my grandmother's, but a closer look at the besmirched recipe card attributes it to her sister-in-law, my Great Aunt Viva.
Or maybe it really came from "Edith Green" whose recipe, Grandma notes, "calls for Crisco instead of margarine."
For more than 50 years Grandma, her friends and family exchanged, embellished, reworked and re-traded recipes until it was impossible to say whose was whose.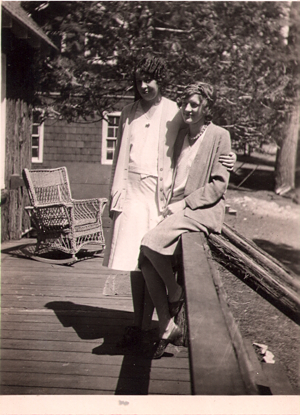 These ladies—and a handful of other daughters of California pioneers—were born in the San Joaquin Valley at the turn of the last century. They spent close to a century living closely together in small-town society, raising children, managing households and making pleasant rounds of bridge luncheons and charity teas.

Over the years they prepared thousands of meals for friends and family. Likely it never occurred to these modest women that their daily rituals and delicious dishes would live beyond them in loved ones' memories.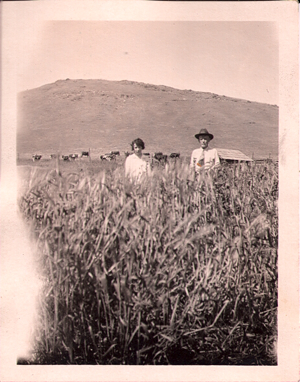 Why I love peaches in this recipe
Grandma's house was surrounded by fruit trees. In addition to pomegranate, apricot, apple and plum, she had an old but fruitful peach tree. Planted when the house was built in the 1920s, half the tree had been awkwardly pruned away by the 1960s.
Maybe the asymmetrical trim allowed the the tree to funnel all it's energy into the remaining off-kilter fork. The ugly little tree—it grew far in back of the house, beside the clotheslines, hidden behind decorative bushes—produced the most delectable, perfumed and full-flavored peaches.
Grandma served us peaches for breakfast peeled, sliced, slightly sweetened, splashed with half-and-half and spooned into in her small white Wedgewood fruit bowls.
She also transformed the golden fruit into jams, pies, tarts and this cobbler.
But don't limit yourself to peaches
Grandma incorporated all kinds of summer fruits into this recipe—and so should you. Try her cobbler with apricots, plums, nectarines or berries—singly or mixed.
The recipe calls for a scant amount of sugar to sweeten the fruit: A tart, juicy base makes the perfect foil for the cobbler's very sweet, eggy topping.
Make cobbler today for family memories tomorrow
Some ancient family recipes require arduous preparation or arcane ingredients. While you cherish those "receipts," very likely you only make them as a novelty.
But you can make my Grandma's San Joaquin Valley Peach Cobbler Recipe any time. Simple and bomb-proof, it whips up in a single bowl in minutes. Plop the batter onto hot fruit, bake and serve warm with a dollop of whipped cream or vanilla ice cream.
While Grandma would never have served her cobbler for breakfast, you can. It's heaven dished up at room temperature and splashed with half and half.
Wedgewood optional.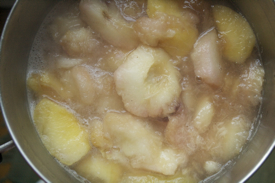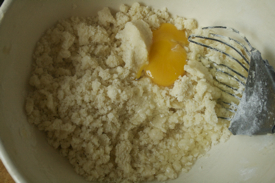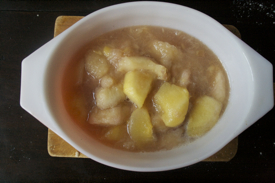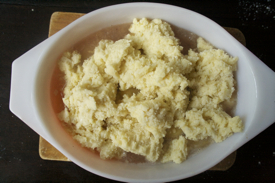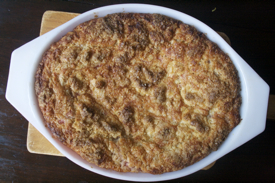 Grandma's San Joaquin Valley Peach Cobbler Recipe
6 cups summer fruit—peaches, plums, nectarines, apricots separately or mixed—peeled and sliced
1 1/2 cups sugar
1 cup flour
2 teaspoons baking powder
Pinch of salt
1/2 cup butter, softened
1 egg
Preheat oven to 375 degrees.
In a medium saucepan combine fruit and 1/2 cup sugar. Cover pan and place over medium flame. Bring fruit and sugar to a boil, turn flame down and simmer for five minutes. Pour hot fruit into a casserole dish.
While fruit simmers, mix cobbler topping. In a medium bowl combine remaining sugar, flour, baking powder and salt.
Cut in butter, blending with pastry cutter, whisk or your fingers until mixture is mealy.
Add egg and mix swiftly.
Drop batter in dollops across top of hot fruit mixture.
Bake for 25-30 minutes. Serve warm with sweetened whipped cream or vanilla ice cream.
Serves 8.