Why, oh, why do smart, food-loving people buy packaged cornbread mixes?
One of the easiest scratch breads ever, cornbread whips together in less than two minutes and delivers far fuller flavor and fluffier crumb than any commercial mix. And clean-up is minimal when you blend ingredients in large Pyrex measuring cups.
Here at Copywriters' Kitchen I count on From-Scratch Quick Cornbread to turn a bowl of chili, soup or stew into a full meal. In the unlikely event that leftovers remain, I reheat a slice, slather with butter and jam and and serve alongside a strong cup of tea—Harney's Paris is my favorite.
Of course you can also use this recipe to make cornmeal muffins.
Authentic southern-style cornbread
"Cornbread ain't cake," declares my friend C., an excellent North Carolinian scratch cook—and my guide to all foods southern. I agree. I dislike cloyingly sweet cornbread: My recipe calls for just two tablespoons of sugar.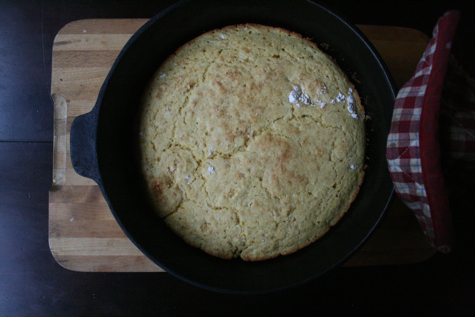 Authentic southern cornbread is grittier than packaged or bakery versions: Wheat flour and sugar dominate commercial mixes. Sometimes C. makes an all-cornmeal, no-flour cornbread. All by way of saying you should feel free to play with the cornmeal-to-flour ratio in the following recipe. Just make sure you wind up using 2 cups total of these two ingredients.
As with all quick breads, try to mix wet ingredients into dry as swiftly as possible. Beating—or even over-blending—toughens the bread's texture. I barely blend wet and dry ingredients, see photos below, preferring a dusting of unmixed flour on top of the baked loaf to a hard, dense crumb.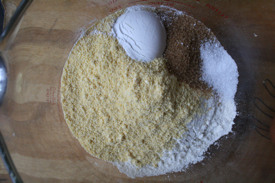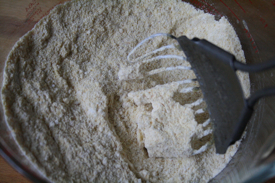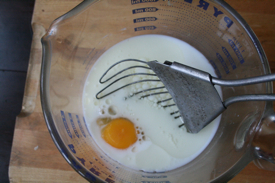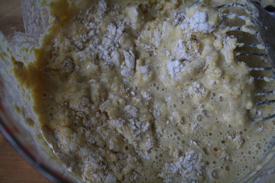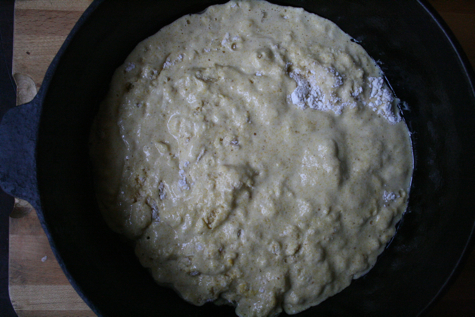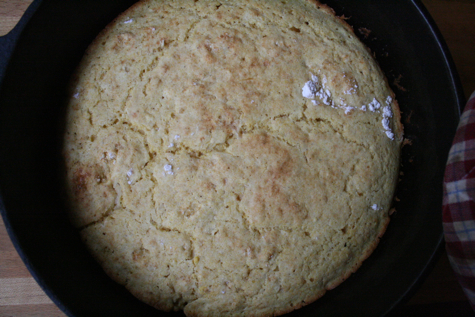 C. doesn't think of himself as a food snob, but he does insist on unbolted, stone-ground cornmeal. You usually don't have to pay artisanal prices for it: Stone-ground cornmeal is one of the few reasonably-priced, old-fashioned food items still available on most supermarket shelves. I paid $1.29 for this 2-pound package of cornmeal, below.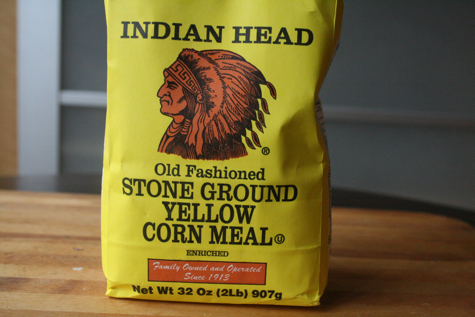 From-Scratch Quick Cornbread Recipe
1 cup cornmeal
1 cup flour
2 tablespoons Demerara or other sugar
1 tablespoon baking powder
1 teaspoon salt
1 cup milk
1 egg
2 tablespoons melted butter or vegetable oil plus extra to grease pan
Preheat oven to 400 degrees.
Liberally grease a 10″ iron skillet or 8"x8" baking pan.
In a large Pyrex measuring cup or bowl, blend dry ingredients, mixing well with a whisk.
In a medium Pyrex measuring cup or bowl, whisk milk, egg and melted butter or oil.
Pour wet ingredients into dry and quickly blend, using as few strokes as possible.
Spoon mixture into prepared skillet or baking pan.
Slide pan into oven. Bake for 20 minutes or until toothpick inserted into center of cornbread comes out clean. Serve while hot.
From-Scratch Quick Cornmeal Muffin Recipe
To make cornmeal muffins, spoon batter, see above, into greased muffin tins and bake for 8-10 minutes—baking time varies according to size of your muffin tins.
Makes 6-8 muffins.