Five Layer Chili Cheese Casserole is a delicious way to use up leftover chili and past-prime tortillas. Flour tortillas are particularly toothsome—they soak up the Casserole's spicy tomato sauce, sour cream and cheddar flavors as they bake and transform into lusciously gummy strata.
This recipe freezes beautifully. To prepare two meals at once, double-batch Comino Chili Con Carne, Hearty Red Pepper and Corn Vegetarian Chili made with Homemade Chili Powder or your favorite chili recipe. That evening, serve chili with rice, toppings and a side of warmed tortillas. With the leftovers, assemble and freeze Five Layer Chili Cheese Casserole for a fabulous second dinner.
Want more time-saving suggestions for pulling off family meals? Check out my Boy Scouts' Guide to Scratch Cooking: Be Prepared.
Five Layer Chili Cheese Casserole
One batch—about 8 cups—chili
5 flour or corn tortillas
1½ cup sour cream
3 cups grated cheddar or Monterey Jack cheese
Into a medium-sized, ovenproof bowl, scoop one cup of chili.
Place a tortilla on top of chili and spread another cup of chili over the tortilla.
Sprinkle ½ cup cheese over chili.
Dollop ¼ cup sour cream on top of chili and cheese.
Repeat, layering tortillas, chili, grated cheese and sour cream until you've used all ingredients. The last layer will use more chili, cheese and sour cream than the first four layers.





Cover casserole bowl tightly with aluminum foil. You may chill or freeze the Casserole at this point.
If serving immediately, place in preheated 350-degree oven. Bake for 45 minutes. Remove foil and continue to bake another 10-15 minutes until cheese is bubbly. (If baking frozen casserole, you may place the dish in a cold oven and turn heat up to 350 degrees. Allow an extra 20 minutes baking time.)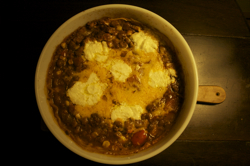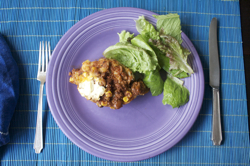 Serves 6.