On Fat Tuesday—also called Shrove Tuesday and Mardi Gras—the traditional evening meal includes pancakes. The custom hearkens back to days when Lenten fasts were strictly observed—as in some Christian Orthodox homes to this day—and fat, sugar and eggs forbidden during the 40-day fast.
Pancake dinners allowed families to enjoy a last indulgent meal before Ash Wednesday when Lent began. The meal also rid homes of their last stores of tempting, proscribed ingredients.
For at least a decade, here at Copywriters Kitchen we've shared a Fat Tuesday dinner with close friends and their children. Our meal includes rich appetizers, champagne—and a full "breakfast dinner."
Side dishes vary but the meal's culinary highlight is a platter piled high with stacks of fluffy, hot Fat Tuesday Pancakes.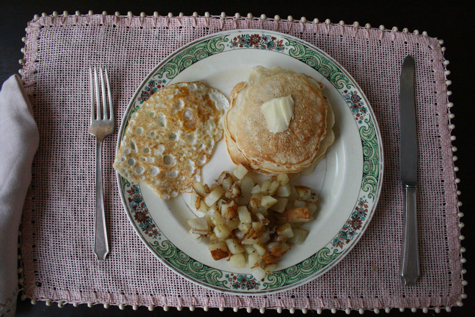 We serve the pancakes with sweet butter and local upstate New York maple syrup bought from an Amish family outside Watertown.
The trick to making light pancakes is to avoid over-beating the batter. Mix wet ingredients into dry and blend as swiftly as possible. You'll see lumps in the batter along with sprinklings of unmixed flour. Leave them. They will incorporate themselves as you fry the pancakes.
To cook pancakes to an even, golden goodness you need to keep a watchful eye on your griddle and continuously adjust the flame underneath the pan. A buttered griddle gives Fat Tuesday Pancakes their luscious, rich finish: I slide a stick of butter across the griddle before pouring each batch of pancakes.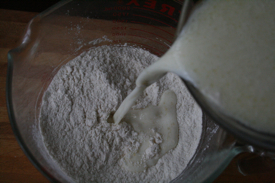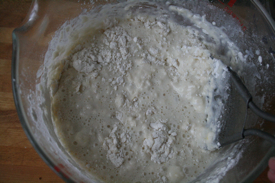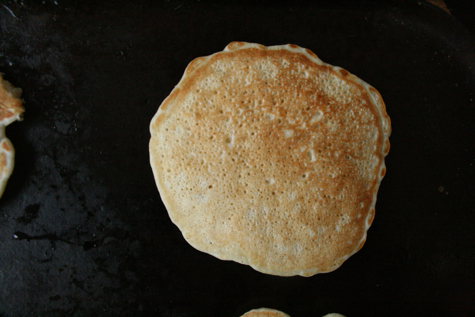 Fat Tuesday Pancakes are so easy to make you may decide to include them in dinner menus regularly. You may want to double the recipe and store leftover pancakes: One of the few foods enhanced by microwave reheating, pancakes help you coax kids to the breakfast table on wintery mornings when they'd rather remain curled under covers.
Fat Tuesday Pancake recipe
2 cups flour
2 tablespoons sugar
½ teaspoon salt
1 heaping teaspoon baking powder
1 egg
2 tablespoons mild oil or melted butter
2 cups milk
Extra butter for greasing the griddle
Preheat oven to 140 degrees or "warm."
In a medium bowl or large measuring cup, whisk all dry ingredients.
In a separate bowl or measuring cup, beat egg and add oil or butter and milk. Stir to mix.
Quickly pour the milk/oil/egg mixture into the dry ingredients, blending with a few swift strokes.
In the meantime heat the griddle over a medium-low flame. When griddle is hot, slide a stick of butter across it to coat. You must work quickly now as butter swiftly scorches and turns bitter. Pour pancakes onto the griddle, making cakes about 4" across. You'll find the pan is hotter in the center and you may need to move pancakes around to cook them evenly. When bubbles begin to form and pop on pancakes, check their undersides. Once cakes are cooked golden on one side, flip them over and cook the other side.
When the first batch of pancakes is fried, stack them on top of each other on a plate, cover with a damp towel and slide the plate into the oven to stay warm as you cook the remaining cakes.
Serves 6.