This luscious white pizza starts with a layer of milky, grainy ricotta over a whole wheat crust. Smeared with garlicky pesto, the pie is generously topped with grated mozzarella. After a quick bake in an extra-hot oven, the pizza dough puffs up to surround bubbling cheeses that meld and melt to a near-liquid state.
But the best thing about this Copywriters' Kitchen FAST food recipe? You don't have to knock yourself out making it: The pie goes from kitchen to table in 20-30 minutes flat.

Home-baked pizza: pillowy comfort food—not a New York slice
To enjoy homemade pizza you have to let it be what it is, not what it isn't: Home-baked pizza will never be a thin-crusted New York- or New Haven-style pie—Pepe's charred, brick oven-baked is my favorite.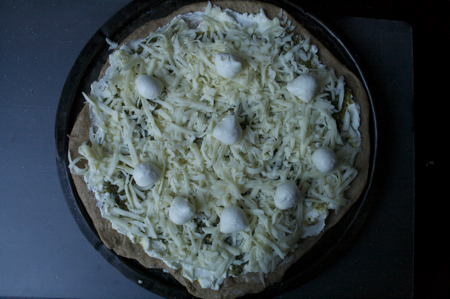 The following recipe yields a deep-dish pie made extra nutty and nutritious when you use whole wheat pizza dough. And it passes muster as a Copywriters' Kitchen FAST food—a dish that goes from pantry or fridge to table in 20 minutes—when you make it with…
Stored or store-bought pesto: No way you'll pull this pie together in less than half an hour if you insist on dolloping it with freshly pounded pesto. I make and freeze massive quantities of pesto when basil is at its fragrant peak in the summer. If you do too, enjoy—and here's my recipe for Walnut Pesto. If not, use store bought pesto.
Ready-made pizza dough: Some foodies insist pizza dough is a breeze to make. If you're one of them, here's a great pizza dough recipe from Smitten Kitchen. Since I'm not a kneader and my bread machine is on the fritz, I buy store-bought dough. Trader Joe's makes a nice whole wheat version my kids will eat. Buy several pounds and throw the dough in the freezer to pull out as needed.
Great dinner idea when you're on deadline
I love this recipe because it's foolproof under all circumstances, even when you're a zombie-case during a deadline week—the time you're most tempted to skip meals or order take-out.
You can heat your oven, roll out the dough and assemble this pie's toppings in five minutes. Now go ahead and run back to your laptop for 10-15 minutes while the dough rises. Once you've pulled yourself away from that last sentence revision and stopped pounding your head on the Synonym Finder, pop the pizza in the oven. Bake for less than 10 minutes and you have dinner.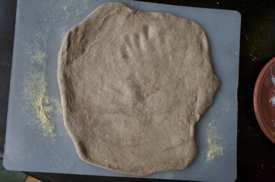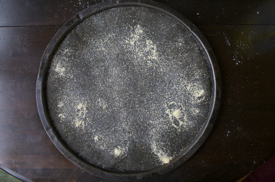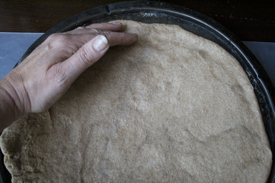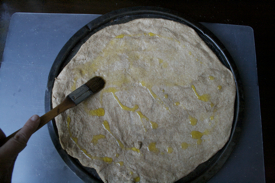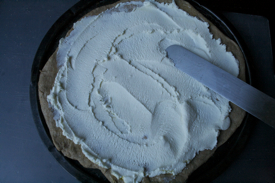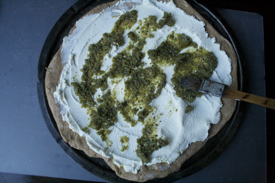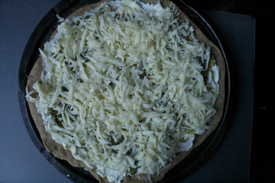 FAST Whole Wheat White Pizza with Walnut Pesto
1 pound whole wheat pizza dough
2 tablespoons cornmeal
1 tablespoon extra virgin olive oil
1 cup ricotta
½ cup pesto
2 cups grated mozzarella
8-10 bocconcini, tiny cherry-sized balls of mozzarella—optional
Preheat oven to 450 degrees.
Sprinkle 1 tablespoon cornmeal on a large cutting board. I love this flexible cutting mat, see photo above, that lets you roll out dough and easily move it to the pan.
Position pizza dough in the center of the cutting board.
Lightly flour hands and/or rolling pin and press and roll the dough into a circular shape about ¼"-½" thick.
Sprinkle a cookie sheet or pizza pan—I found one for 50¢ at a garage sale!—with the remaining cornmeal.
Loosen sides of pizza dough from the cutting board while at the same time rolling the dough off the board. This is a quick movement. Roll the dough onto the pizza pan or cookie sheet. Don't worry if it's not perfect—this is rustic pizza. Press the dough to the edge of the pan to cover as much of the surface as possible.
Brush pizza dough with olive oil—this seals crust and keeps the dough from becoming soggy after you add the ricotta.
Spread the ricotta evenly over the dough.
Smear the pesto over ricotta.
Sprinkle the grated mozzarella over the pesto.
For added cheesy indulgence, position bocconcini evenly across the pie. If you live in the New York area, you can get bocconcini in the Bronx's Arthur Avenue neighborhood or at good Italian delis. Trader Joe's also sells a less toothsome, but acceptable, carton of bocconcini.
Let dough rise for at least 10 minutes—or up to a half an hour.
Slide pizza into oven and bake for 7-10 minutes.
Remove pizza from oven. Allow to cool for 3-5 minutes, slice and serve.
Serves 4-6.