Darkness falls at a drearily early hour these days here in my New York suburb. Around four o'clock I face a quandary: My body tells me it's time to tuck into comfort food and pass out for the night. But my mind informs me I still have three hours of work ahead.
Naturally, I don't want to spend time fussing in the kitchen. That's why I love this recipe for Easy Oven-Roasted Herb Cauliflower. It takes two minutes to put together: Wash and slice a head of cauliflower, toss with oil and herbs. Shove into the oven and go do something else.
All right, midway, I usually pop the cauliflower out of the oven and turn it so it browns more evenly. But that's it.
Roasting is my current favorite vegetable preparation—see my recipe for Easy Oven-Roasted Green Beans.
There's something about slow, dry heat that brings out a new—at least to me—more concentrated vegetable flavor.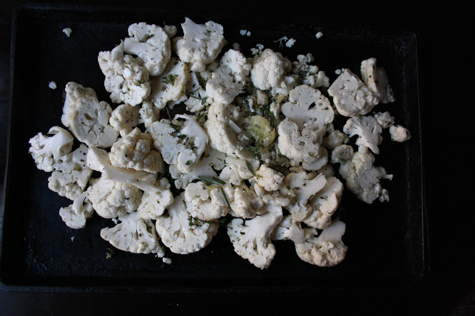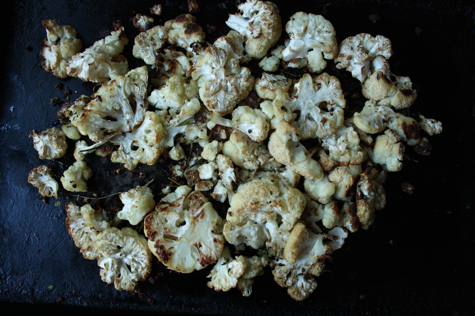 I confess I'm a fan of charred foods, so I always let my cauliflower roast a little too long. When I whisk it from the oven, I immediately nibble the florets that stray from center heap to pan edge. They have a strong, brown, oily chewiness I find addictive.
Of course, it's really maternal selflessness that drives my sybaritic stuff—sparing my family carcinogens, what?
Please: Even if you hate cauliflower—especially if you hate cauliflower—try this recipe.
You can toss the cauliflower with fresh herbs. In my garden, rosemary still grows robustly, looking for all the world like a little Scotch Pine.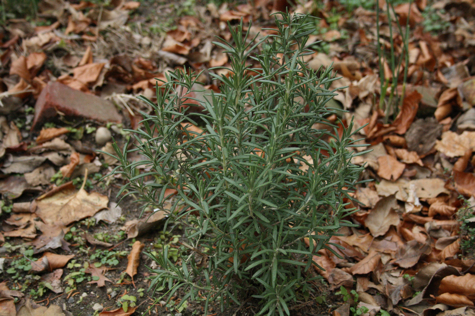 The oregano and thyme, however, look ready to curl up under a blanket of papery, brown leaves. But enough of the herbs' aromatic greens remain for me to use.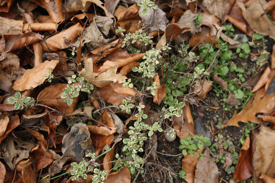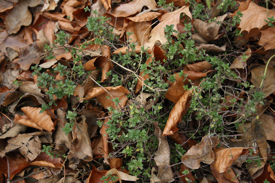 Of course, you can include whatever fresh or dried herbs you enjoy and have available for this recipe.
By the way, Easy Oven-Roasted Herb Cauliflower makes a divine warm salad served with a splash of balsamic vinegar and an extra grinding of black pepper.
It also makes a lovely hors d'oeuvres—a nice foil to high-carb holiday appetizers.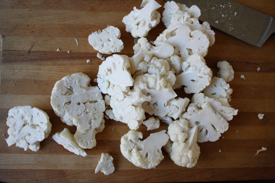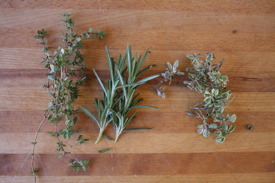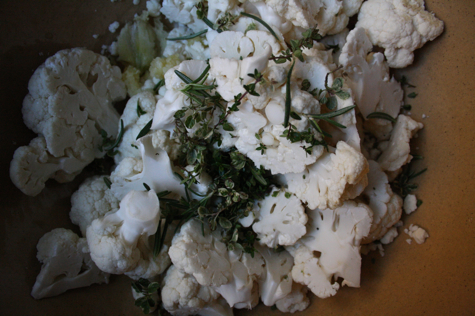 Easy Oven-Roasted Herb Cauliflower
One head of cauliflower
2-3 tablespoons extra virgin olive oil
3-4 tablespoons fresh chopped herbs—I use rosemary, oregano and thyme—or 1 tablespoon dried herbs
Kosher salt and freshly ground black pepper
Preheat oven to 350 degrees.
Wash and pat dry cauliflower. Remove its tough core and cut the florets into thick slices.
In a large bowl toss the cauliflower with remaining ingredients.
Dump the cauliflower onto a jellyroll sheet or large, shallow baking pan. Arrange the florets in a single-layered heap in the middle of the sheet, pushing stray pieces away from the edge. Unless you want them to burn for your own little guilty-pleasure snack.
Slide the jellyroll sheet into the oven. Bake for 20 minutes. Remove cauliflower from oven and turn florets with a spatula, again arranging them in a single layer heap in the middle of the sheet. Continue baking for another 10 minutes or until the florets roast to golden—or for me, black—deliciousness.
Serves four.