In Europe, you'll still find hundreds of locally made digestifs and aperitifs. These aromatic elixirs combine fruits, roots, barks and bitter herbs with alcohol—usually fortified wines.
The salutary drinks are meant to stimulate appetite for the meal to come and help one digest comfortably afterward.
English "cup drinks" come from the same tradition. In the early 19th century, every fashionable English tavern and inn had its own "cup." The proprietary mixes of hard liquor, herbs and fresh fruits and vegetables were a highly guarded secret.
In the 1820s, James Pimm owned a popular London tavern, the Oyster Bar, on Lombard Street. His house cup, Pimm's Cup No. 1—a sweet-bitter herb and gin based mixture—became enormously popular.
It was so successful that Mr. Pimm bottled the secret formula and sold it to other taverns and men's clubs. Today the gin-based Pimm's No. 1—and No. 2, 3, 3, 4, 5 and 6 spin-offs based on other hard liquors—is still sold.
Pimm's Cup still made with secret 19th century recipe
In an era of flavorless beer and mass-manufactured sugary cocktails, it's comforting to know that Pimm's Cup No. 1 is still produced exactly as James Pimm concocted it almost two hundred years ago.
Rumor has it, only six living people know its proprietary recipe.
Traditional English summer cocktail
In England, Pimm's Cup is a popular summer cooler served traditionally at Wimbledon, lawn parties and cocktail hour. It's usually mulled with fresh sliced fruits, mixed with a citrusy sparkling water and served on the rocks.
Choose perfect summer fruit and create your own signature Pimm's Cup
Today there are probably as many ways to mix this cocktail as there were two centuries ago. Some English purists decree that only cucumbers and certain citrus fruits be used for classic Pimm's Cup.
I beg to differ—and feel Jimmy Pimm would back me up on this.
I have a feeling he and other food-and-drink-loving tavern-owners used whatever was seasonal and delicious—and so should you.
When local strawberries were at their peak this week, I bought a big basket. I threw the berries into my Pimm's Cup along with peeled, sliced cucumbers—the quintessential cooling summer fruit. I also added a few slices of peeled ginger root.
All right, I admit I'm a little more autocratic about the mixer you use for this drink. If possible, please use San Pellegrino Limonata. This not-too-sweet, sparkling refresher is made with 12% lemon juice—and it's perfection with Pimm's Cup, adding just-right flavor notes and effervescence.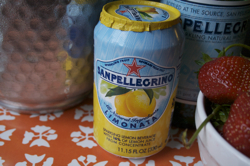 If you can't find San Pellegrino Limonata you may substitute:
A 1:3 mixture of frozen lemonade concentrate and sparkling water
Ginger beer or ginger ale
San Pellegrino or other sparkling water
Sprite—never mind. Please don't use Sprite
I also added a dash of Angostura bitters.
If you're as fascinated with the history of Pimm's Cup as I am, read more about it here and here.
Cucumber Strawberry Pimm's Cup No. 1 Cocktail
For each drink you will need:
4-6 thin slices of peeled cucumber
2-3 strawberries
2 thin slices peeled ginger root
2 jiggers (3 ounces) Pimm's Cup No. 1
Dash Angostura bitters—about 5-6 drops
6 ounces San Pellegrino Limonata, ginger ale or sparkling water
Thin-sliced cumber for garnish
Before peeling the cucumber, cut a few slices with peel for garnish.
Peel and cut cucumber razor thin.
Wash, hull and thinly slice strawberries.
Peel and thinly slice ginger root.






To a tall glass, add cucumber, strawberry and ginger slices. With a pestle or spoon, bruise and mix the fruit together.
Add Pimm's Cup No. 1 and a dash of bitters and mix well.
Add the Limonata or other sparkling mixer. Stir gently.
Fill glass with ice and garnish with cucumber slice.