Northeastern summers come as a shock to Americans cradled in the West. As children growing up in California, nothing filled my siblings and me with more joy than soaring temperatures—"Now it's a hundred and two!"
By late morning my grandmother would call us in from play under the grape arbor and pomegranate, peach, apple and apricot trees surrounding her home in California's San Joaquin Valley.
Born at the tail end of the Victorian age, Grandma would fan herself limply and insist we read, play cards, knit or nap until "the heat of the day" passed—after 3pm.
I never recall feeling debilitated by California's dry heat.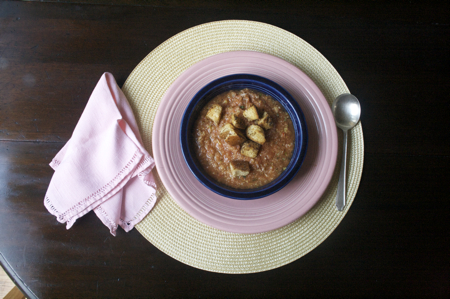 But my first New York summer knocked me out. Three thousand miles from home, I might as well have been on Mars. It felt surreal to be so palpably pressed by the atmosphere.
In my brick Hell's Kitchen apartment the swampy weather was a presence that refused to be ignored. The steamy, suffocating air demanded adjustment—in clothes, activity, sleep and meals.
Enjoy a no-cook supper of spicy, icy vegetable soup
Today I am stuck live in the more capacious and air conditioned suburbs, but New York's heat and humidity still dictates dinner. On the most sweltering days it's impossible to think about turning on the stove.
That's when a bowl of cold, spicy Anything Goes Gazpacho tastes divine. At Copywriters' Kitchen we mix up a double batch and subsist for days on the traditional Spanish summer soup.
Fortified by hard bread, this otherwise all-vegetable soup is surprisingly filling. We ladle it out for lunch, dinner and as a starter course for company summer suppers. It's also one of the few soups palatable with wine, beer and cocktails.
But I find Anything Goes Gazpacho most delicious as a snack. I like to spoon it straight-up-from-the-pitcher—my preferred storage—standing in front of the open fridge to catch a wave of cool air.
Please don't tell my grandmother, you angels.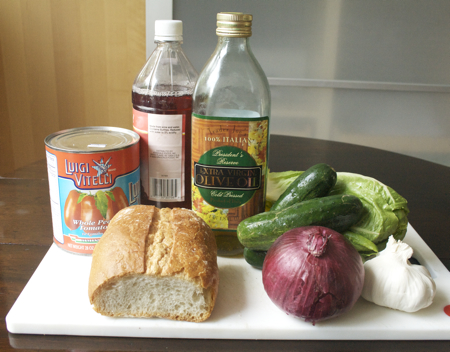 Add your culinary signature to Anything Goes Gazpacho
If you've never eaten gazpacho, think of it as salad soup.
That's by way of saying you should feel free to dump in any and all your favorite raw vegetables.
Simply start with a foundation of tomatoes, stale Italian bread and cucumbers. After that, anything goes.
Unless it's August when local tomatoes are at their flavorful peak, I use canned Italian tomatoes for Anything Goes Gazpacho. If you've cadged some fresh, full-flavored tomatoes, by all means throw them, peeled and seeded, into Anything Goes Gazpacho.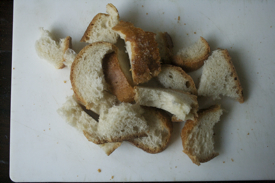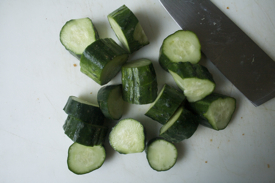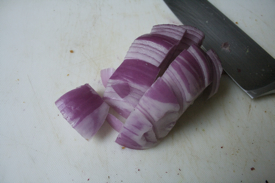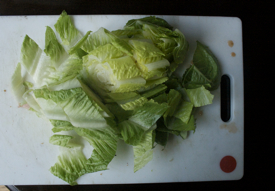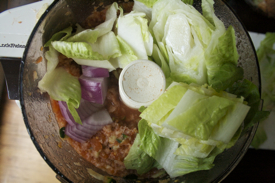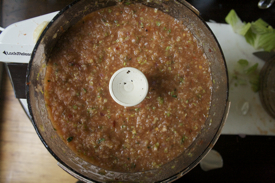 Anything Goes Gazpacho
Start with base of:
1 28-ounce can of Italian tomatoes or 4 cups fresh seasonal tomatoes, peeled and seeded
4 slices stale Italian or other hard bread
2-3 Kirby cucumbers, roughly chopped, or one large regular cucumber, peeled and roughly chopped
¼ cup olive oil
¼ cup red wine vinegar
1-2 cups cold water
1 clove garlic, crushed
½ teaspoon crushed red pepper flakes
Kosher salt and fresh ground pepper to taste
Add, in any combination, 4 cups roughly chopped:
Romaine lettuce
Spinach
Red or yellow peppers
1/2 red onion
Celery
Fresh herbs—go easy on these flavorful ingredients: add a few tablespoons, then taste before adding more.
On a cutting board, roughly chop cucumbers and 4 cups other vegetables of your choice.
In the bowl of a food processor, place tomatoes, cucumbers, oil, vinegar, garlic, red pepper flakes, salt, pepper and 1 cup water.
Pulse chop tomatoes and other ingredients to create a large-chunked purée.
Add 4 cups roughly chopped vegetables of your choice.
Pulse blend to a grainy purée, adding water as needed to yield a soupy, chunky consistency. The soup should not be completely smooth. Adjust seasonings.
Pour soup into a container—I prefer a pitcher—cover and chill.
Great gazpacho toppings
For additional flavor, crunch and heartiness serve this soup with any of the following toppings:
Sieved hard-boiled eggs
Cubed avocado
Toasted almonds or walnuts
Pan-fried corn tortilla triangles
Small cubes of Monterey Jack or Queso Blanco
Serves 6-8.