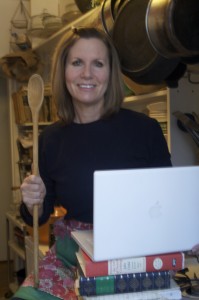 Welcome to Copywriters' Kitchen where you'll find great food and whine for writers, parents, students and other harried creative workers.
Copywriters' Kitchen serves up frugal foodie tips and easy recipes that help busy people prepare and enjoy delicious, scratch-cooked meals every day.
Who's behind the burner at Copywriters' Kitchen?
Copywriters' Kitchen is written by an in-the-trenches New York Hudson Valley content marketer, copywriter and mother of three.
Me, Lorraine Thompson.
Hi.
As a content marketer and parent, my day is packed with family responsibilities—husband, kids, emotionally dependent boxer dogs—and full-time work. Check out my professional gig here.
My daily routine involves long hours at the keyboard, mealtime meltdowns in a cramped galley kitchen and—come deadline—I often return to the keyboard at night.
Over the years I've turned out hundreds of copy projects and more than 6,000 scratch-cooked meals.
In between tapping keyboards and stirring polenta I've had time to ruminate. You'll find my thesis on food, family and freelancing in the Copywriters' Kitchen Manifesto.
But a better way to get to know me is to drop in often at Copywriters' Kitchen.
Or drop me a line at lorraine at copywriterskitchen dot com.
Please?