Back in 2008 when I started this blog, two of our kids still lived at home in the Copywriter's Kitchen.
Along with connecting with you, posts were a way to record and pass on family recipes and kitchen lore to our sons and daughter.
In my kids' teen years it sometimes felt like food glued our family together—it was something we could always enjoy together.
The Tyranny of Shrinking Time
Like a lot of aught-age teenagers, our kids gave serious energy to school. On winter mornings, they rolled out of their cozy duvets and lurched sleepily into the dark morning for long hours of AP classes.
Afternoons stretched into evening: soccer, fencing, lacrosse, cross country practice, yearbook and video editing, violin and dance lessons.
At night—every night—they put heads down to hours of homework.
Weekends were freighted with essays, long required reading, labs, test-cramming and SAT classes. They squeezed in time for friends and love interests. Snuck off to parties at parent-vacated homes. Slipped onto Metro North for illicit night train rides to NYC.
"Present Moment Wonderful Moment"
Today I feel nostalgia for my children's presence, the rhythms of our shared daily routines. But I don't miss that decade's anxiety-laden time crunch.
These days I think about Buddhist monk Thich Nhat Hanh's advice to Wake Up and enjoy the Present Moment.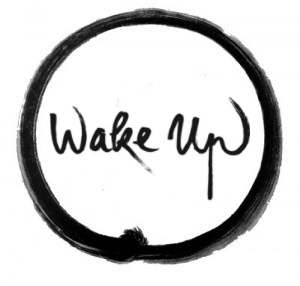 Not then. As a family with college-bound children, we didn't live in the present moment. Volition pushed us and everyone we knew—family friends, school community and neighbors—into the future.
We fumed at it, but surrendered to a capricious, competitive college prep system. The promise of the perfect mix of intellectual challenge, warm community and Neo-Gothic architecture lay just ahead. Just out of reach at your first-choice college.
This blog helped our family circle back to each other once a day at dinner.
20 years of family dinners
I wish I could say nightly meals were always oases of peace, relaxation and body-soul nourishment. Sometimes there were. Sometimes they weren't.
There were nights when achievements were shyly shared. Projects discussed. Plans made.
And nights when sullen faces chewed silently over plates. Eyes rolled. And an innocent parental "How was your day?" was met with an emphatic, downwardly-inflected "fine" that meant "Shaddup. Puleese."
Still, every night, soup was ladled, pasta served, bread broken. Thousands of nights after night, our family ate together.
Food still glues our family
Today, with just Mr. Copywriters Kitchen and me to cook for, meals are evolving.
Our kids are scattered around the world. Brooklyn. New Haven. Saint Petersburg, Russia!
They're making their own homes. And cooking their own meals.
Copywriter's Kitchen feels even more important. A way to continue connecting and sharing with family—including you—across time and space.
So I'm excited to tell you about this quick and easy Thai soup we've been devouring all winter. It's one of my kids' favorites and they've been asking me to post the recipe—hello, Lily, Roo and Izzy!
It's perfect for time-pressed Millennials and other busy people. I hope you like it.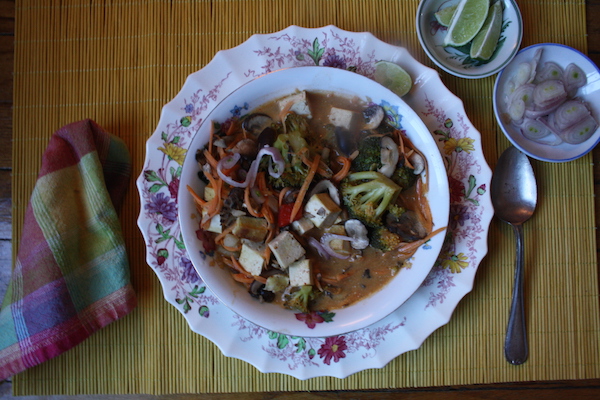 An addictively delicious South Asian broth of coconut milk, rosy curry paste and vegetables, the soup's heat can be notched up or down. Love fiery soup on a cold winter day? Add additional red curry paste—or make the soup blaze with the addition of a touch of Inferno-esque green curry paste.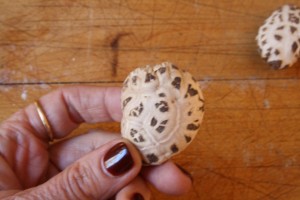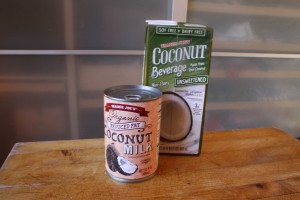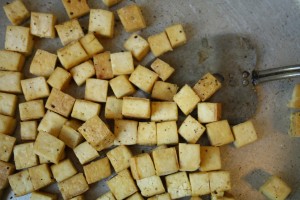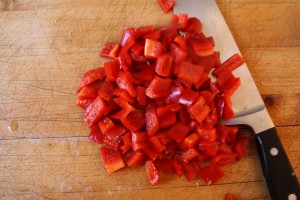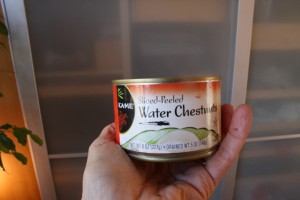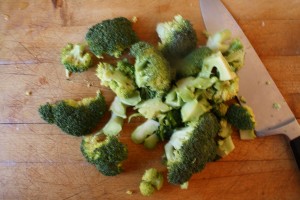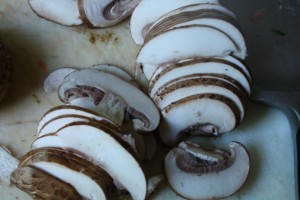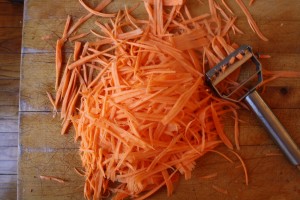 While officially a "soup" this recipe is more a "bowl." It's chockablock with vegetables and yam "noodles" lightly bathed in ultra-flavorful broth. Crispy fried tofu chunks and meaty shitake mushrooms lend stick-to-the-ribs heartiness.
Best of all? You can ladle up a steaming bowl of this crunchy, spongy, creamy, coconutty, spicy flavor-packed goodness in 20 minutes, start to finish. With plenty of Mason-jar leftovers to take to work, post-chem class lunch or on-the-go Resist rally!
Millennial Easy 20-Minute Thai Red Curry Soup
2 ounces dried shitake mushrooms—available in Asian markets, or use extra fresh mushrooms.
Boiling water
1-2 teaspoons coconut oil
1 pound extra-firm tofu
Salt and pepper to taste
2-3 tablespoons Thai red curry paste
1 tablespoon fresh grated ginger (optional)
1 large clove garlic (optional)
4 cups hot vegetable broth
3 cups light coconut milk and/or coconut beverage
Head of fresh broccoli, washed and chopped
1 large red pepper, washed, cored, seeded and diced
1 8-ounce can water chestnuts, drained and chopped
8 ounces baby bello mushrooms, washed, trimmed and sliced paper-thin
1 medium yam, peeled and julienned into noodle-size strips
Garnish
1 cup fresh cilantro, chopped
½ cup sliced red onion, shallots or scallions
1 lime, cut into wedges
Cooked white rice
If time permits, soak the dried shitake mushrooms a few hours—and up to eight hours—ahead of time. If time-pressed, the following quick-soak will do. In medium bowl, cover dried mushrooms with boiling water—about 1½ cups. Turn mushrooms button-side down and weight with a small plate. Note on buying shitake mushrooms: Choose whole mushroom caps with deep white fissures, see photo above. More flavorful—and more expensive—than non-fissured mushrooms, the fissured variety are sometimes labeled hana, or "flower" mushrooms.
Cut tofu into ½" cubes.
In a flat-bottomed stockpot, heat a teaspoon of coconut oil over a medium flame until it begins to smoke.
Dump tofu into the pot and spread to form an even layer. Sprinkle with salt and pepper. Do not jostle the tofu, let it fry on one side, turning flame down if needed, until one side of tofu is golden. Using a spatula, scrape and scramble the tofu, scraping every 3-4 minutes to fry until golden all over. Remove and reserve the tofu. Scrape the pan clean of any bits of fried tofu, wiping with a paper towel, if needed. Note: Pressed for time? Forget about frying the tofu—reserve the raw cubes and add them along with vegetables, see step 14, below.
Place pot back on stove, add one teaspoon coconut oil and turn flame to medium. Tilt pan to spread oil over pan bottom and heat oil until almost smoking. Add the curry paste and ginger and garlic, if desired.
Cook the paste for a few minutes to release the spices' full flavor, lowering flame if needed.
Add hot broth and coconut milk or coconut beverage. I use 2½ cups Trader Joe's Coconut beverage and ½ can of coconut milk. If you prefer a richer broth, use more coconut milk and less beverage.
Bring broth to a boil, lower to a simmer and let cook down for 15 minutes.
In the mean time prepare vegetables. Wash, trim, cut broccoli into flowerettes and dice broccoli stems. Reserve.
Wash, core, seed and dice the red pepper. Add to broccoli and reserve.
Open water chestnuts, drain and dice.
Thinly slice fresh mushrooms.
Squeeze soaked shitake mushrooms and reserve soaking water. Slice mushrooms thinly.
When broth has cooked down, add broccoli, red pepper, water chestnuts, shitake mushrooms and reserved shitake soaking water. If you have not fried tofu cubes, you may add raw cubes at this point. Stir gently to incorporate all ingredients. The heat of the broth will cook the vegetables, so no need to turn up flame.
As veggies cook, peel and julienne the yam, using a spiralyzer or julienne utensil. Note: Don't peel yams ahead of time: they oxidize and turn brown quickly.
Dump julienned yams, fresh mushrooms and, if using fried, rather than raw tofu, add the tofu now. Sir gently to incorporate. Cover the pot, turn off flame, and leave the veggies to finish cooking in the hot broth for five minutes.
Spoon into big bowls and garnish with chopped cilantro, red onion or scallions (or shallots), a squeeze of lime and dollop of white rice, if desired.
Serves six generously.
---
"Wake Up" image courtesy of Wikimedia.