Stay updated on my latest posts? Subscribe now for direct delivery to your RSS feed. Thanks for visiting!
If you visited Copywriters' Kitchen last week, you know I cadged a quart of heirloom New York State Champagne grapes—also known as Corinth grapes—at my local farm stand.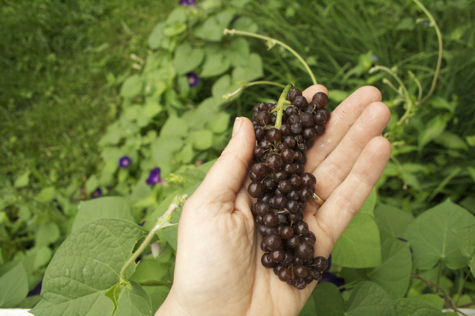 Advised to use them as fresh currants, I tossed a cupful into a sweet and crunchy Waldorf Salad. A few more cups of Champagne grapes went into a low oven and came out two hours later as dried currants—the plumpest, most flavorful I've ever tasted.
But the tiny grapes—Champagne Grapes are small as petit pois peas—were most delectable baked into rich cream scones.
The juicy jewels add a burst of intense grapey flavor to the buttery scones without watering down the dough—my initial fear.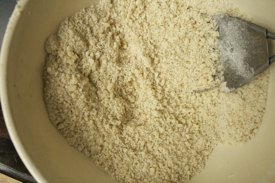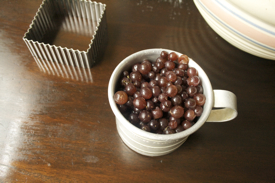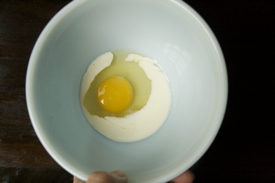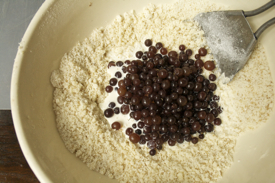 With rain darkening the sky last week—this has been the wettest New York summer I remember—my son and I felt delightfully unseasonable pulling out the tea trays.
We brewed a pot of Paris Tea from Harney & Sons, slathered sweet butter on the warm-from-the-oven scones and bit into their sugar-crusted tops. And we didn't mind the downpour a bit.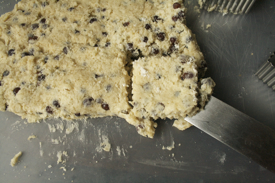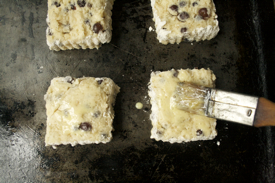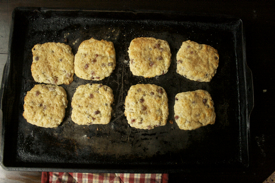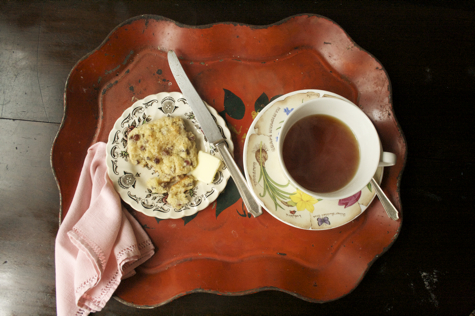 Cream Scones with New York State Champagne Grapes
2 cups unbleached all-purpose flour plus extra for rolling out dough
1 tablespoon baking powder
1/2 cup plus 2 tablespoons Demerara or plain sugar
1/8 teaspoon salt
1/2 cup—1 cube—plus 1 tablespoon butter, softened
1 cup Champagne grapes, fresh currants or other fresh berries
1 egg
3/4 cup + 1 tablespoon light cream or half and half
Preheat oven to 400 degrees.
Using 1 tablespoon butter, generously grease a jelly roll pan or cookie sheet.
In a medium bowl, combine flour, baking powder, 1/2 cup sugar and salt. Mix well with a whisk.
Cut in butter, blending with the whisk, pastry cutter or your fingers until butter is completely blended and mixture is mealy. Spoon out a crater in center of flour mixture.
In a small bowl, beat egg and cream. Set aside two tablespoons of egg/cream mixture.
Pour remaining egg/cream mixture and grapes into hollowed crater in flour mixture.
With a few swift strokes, blend wet and dry ingredients and grapes. If the dough is too sloppy to handle, lightly blend in extra flour a tablespoon at a time. Keep in mind, however, the dough should be wet and a little sticky to handle.
Sprinkle a tablespoon of flour on a cutting board and pat dough into a rectangle 3/4″ thick.
Dip 2 1/2″ biscuit cutters in flour and cut out scones—or use a knife to cut 2 1/2″ square scones.
Dip a spatula in flour and gently transfer the scones to the jelly roll pan.
Brush tops of scones with reserved egg/cream mixture. Sprinkle tops of scones with two tablespoons of sugar.
Slide scones into oven and bake for 12-15 minutes or until inserted toothpick comes out clean.
Remove scones from oven, let cool on pan for a minute or two, then transfer to cooling racks. Serve with butter, jam and, if you're feeling indulgent, clotted cream. You can buy real clotted cream in specialty food stores like NYC's Zabar's, or try making this substitute Clotted Cream from Joy of Baking.