In an ideal kitchen, the cuisinière maintains a flawlessly organized pantry. She plans all meals ahead. And she always remembers to soak chicken in marinade a day before grilling.
But I work in Copywriters' Kitchen where a home office, writing projects and tight deadlines collide with food, family and friends.
Detonation is guaranteed. And you can't organize an explosion.
So while I marshal weekly menus, draw up shopping lists and use time-saving kitchen strategies, inevitably dinner gets derailed at least once a week.
Flavor-packed grilled grassfed chicken without 24-hour prep
So here's the marinade lowdown: Soaking chicken for 12-24 hours does maximize juiciness and flavor. But…
When pressed you can throw together ready-for-the-grill chicken in ten minutes flat.
Fresh ingredients—and a short soak using 3 Time-Saving Marinating Methods, below—yield tender meat filled with concentrated, seared chickeny goodness. (For both best taste and good conscience, I buy grassfed chicken from a farmer I know and trust.)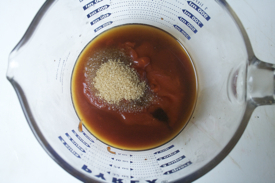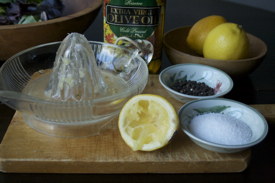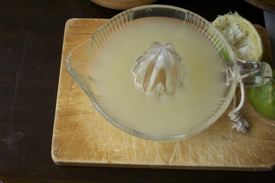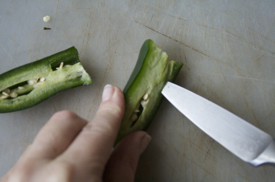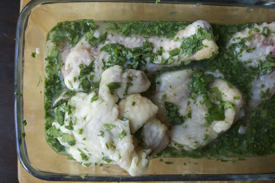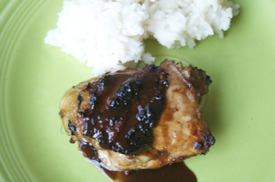 10 Quick and Easy Chicken Marinades
Each of the following recipes makes enough marinade for one cut-up chicken or 2 whole chicken breasts.
Teriyaki Chicken Marinade
When cooked down, this dark, gingery marinade is heaven drizzled over rice or Spicy Cold Sesame Noodles.

Combine:
1/3 cup soy sauce
2 tablespoons Demerara or brown sugar
1 clove garlic, crushed
1 teaspoon ground ginger powder and/or 1 tablespoon peeled grated ginger root
1 cup beer or Chicken/Vegetable broth—I use Knorr's Bouillon Cubes and hot water
1 tablespoon canola oil

Lemon Herb Chicken Marinade
Elegant, simple and delicious with pilafs, pilaus and other rice side dishes

Combine:
1/2 cup lemon juice
1/4 cup water
1 tablespoon olive oil
1 clove garlic, crushed
1-2 teaspoons dried or fresh herbs in any combination: oregano, thyme, parsley, rosemary, etc.
1/2 teaspoon Kosher salt
Few grindings of black pepper

Smoky Barbecue Chicken Marinade
This marinade delivers richer, fuller flavor than insipid store-bought versions—and mixes up in seconds.

Combine:
1/2 cup catsup
2 teaspoons soy sauce
2 tablespoons apple cider vinegar
1 heaping tablespoon Demerara or brown sugar
Dash of Sriracha or Tabasco sauce
Juice of 1/2 lemon
6-8 drops liquid smoke—this VERY strong natural flavoring adds delicious smokey flavor notes that substitute nicely for bacon and other smoked meats. A great vegetarian option.

Cabo San Lucas Lime and Cilantro Chicken Marinade
Cool intense limeyness countered by fiery jalapeño

Combine:
2 cups lime juice—about 10-14 limes
4 tablespoons fresh cilantro, chopped fine
1 jalapeño pepper, minced or 1 teaspoon crushed red pepper
3 scallions, sliced
2 cloves garlic, crushed
Kosher salt and fresh ground pepper to taste

Middle Eastern Honey Cumin Chicken Marinade
Reduce this marinade to make a luscious, complexly spiced, syrupy sauce.

Combine:
1/4 cup soy sauce
1/4 cup water
Juice of one lemon—about 3 tablespoons
1 tablespoon honey
2 tablespoons cumin
2 tablespoons coriander
2 teaspoons tumeric
1/2-1 teaspoon crushed red pepper

Jamaican Jerk Chicken Marinade
Adapted from a Diana's Kitchen recipe, this explosively flavored marinade delivers moist juiciness often lacking in chicken dry rubs.

Combine:
1 tablespoon ground allspice
1 tablespoon dried thyme
1 teaspoon cayenne pepper
1/2 teaspoon freshly ground black pepper
1/2 teaspoon ground nutmeg
1/2 teaspoon ground cinnamon
2 cloves garlic, crushed
1 tablespoon Demerara or brown sugar
2 tablespoons olive oil
1/4 cup soy sauce
1/2 cup apple cider vinegar
1/2 cup orange juice
Juice of 1 lime
1 scotch bonnet or jalapeño pepper, seeded and minced
3 scallions, thinly sliced

Salad Days Chicken Marinade
Okay, if you're really time-pressed, skip the scallions. This marinade still yields succulent, tasty chicken.

Combine:
1 cup of your favorite store-bought vinaigrette-style dressing
2 scallions, thinly sliced
Freshly ground pepper to taste

Sweet and Sour Chicken Marinade
Cook down this marinade and spoon the sticky, pungently sweet sauce over rice. Mmmm.

Combine:
3/4 cup cider vinegar
1/3 cup Demerara or brown sugar
1 clove garlic, crushed
2 teaspoons soy sauce
2 scallions, thinly sliced
Freshly ground pepper to taste

Chili Lime Chicken Marinade
Fast and easy Tex-Mex deliciousness

Combine:
1 cup lime juice
2 tablespoons Homemade Chili Powder—or store-bought chili powder
1/2 teaspoon salt
Freshly ground pepper to taste

Provence Chicken Marinade
For pan-Mediterreanean dinners, we serve this chicken with a side of pesto-tossed pasta.

Combine:
1/2 cup dry white wine
2 tablespoons extra virgin olive oil
1 clove garlic, crushed
1 teaspoon thyme
1 teaspoon dried oregano
1 teaspoon dried rosemary
Kosher salt and freshly ground black pepper to taste
3 Time-Saving Marinating Methods
I use the following marinating techniques to get chicken on the grill or in the pan—and to the table—fast:
10 Minute Marinated Grilled Chicken with Quick Reduction Sauce. In a bowl just large enough to hold chicken pieces, place chicken. Pour marinade over chicken to coat and let chicken soak while you prepare the coals. When coals are white, grill chicken, reserving marinade. While chicken cooks, pour marinade into a small saucepan and heat over low flame until sauce is reduced by half. Pour sauce over grilled chicken and serve.
Rainy Day Marinated Pan-Fried Chicken with Quick Reduction Sauce. Don't let soggy weather ruin your dinner plans. If it's too rainy to grill, pan fry chicken instead. Marinate chicken for 10 minutes, see directions above. In a skillet heat one tablespoon oil over medium-high flame. Remove chicken from marinade and brown chicken pieces in skillet. Cover skillet, reduce flame and pan fry chicken, turning pieces and adjusting flame as needed. You may need to add a tablespoon of marinade to the pan if chicken starts to dry or burn. When chicken is cooked through, remove cover and pour remaining marinade over chicken pieces. Simmer chicken, spooning sauce over chicken pieces until marinade is slightly reduced. Serve immediately.
Freezer Marinated Chicken. On shopping day, after unloading groceries, take five minutes to mix one of the marinades, above. Pour the marinade over cut-up chicken pieces in an oven-proof dish—I prefer glass food storage—cover tightly and freeze. On the day you plan to serve the chicken, remove it from freezer and place container in fridge to thaw for 8-12 hours. Or quick-thaw in microwave—see your microwave manufacturer's thawing directions. Grill or pan fry chicken, see above instructions.
P.S. Vegetarians: These marinades double as sauces for tofu
The above marinades are also delicious on Recipe-Ready Tofu. Follow directions to pan fry tofu, then pour marinade over tofu and reduce marinade, as for Rainy Day Marinated Pan-Fried Chicken with Quick Reduction Sauce, above. Serve immediately.