Of course you want to reduce your family's impact on the environment—minimize landfill, green house gas, pesticides, dead tree products, etc.
But some green "simple living" tips make life very complicated—"Find a local source for organic hemp" or "stop using toilet paper." Unless you're the admirable No Impact Man, will you ever be able to incorporate such uber-greenness?
At Copywriters' Kitchen we find ourselves adopting eco-friendly practices that are relatively convenient, easy and cheap. Because I'm a fool for esthetics, I tend to more readily incorporate green tips that also make my home more attractive, clutter-free and gracious .

Here are our favorite pointers:
Green kitchen tips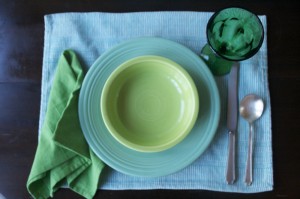 #1 Cook from scratch.

If you've never cooked meals from scratch, this suggestion may seem daunting. It gets easier, faster and more fun with practice. Copywriters' Kitchen provides a number of organizational posts that help.
Environmentally, there's no question that scratch cooking beats packaged, convenience and take-out food.
Home-cooking helps…
Reduce landfill because you rely on whole foods that generally use far less packaging than mixes, frozen entrées and microwaveable dishes.
Use healthier ingredients—you control all components of your recipe. You can choose local food sources and select items with the least impact on the earth—organics, plant-based foods or pasture-raised meats.
Engender a resourceful mindset that often leads to more thoughtful big-picture choices. Cooking is a process, not an instantaneous result. When you embrace the process you may find yourself choosing responsible food sources, planting a vegetable garden or adopting other green ways.
#2 Buy local, ethically raised food.
Food raised by farmers in your area…
Reduces your carbon footprint: The less you transport food—to slaughter, factories, retailers—the less fossil-based fuels used.
Lowers methane production and lessens polluted ground water: Factory meat "farming" wrecks havoc on the environment. It is also a brutally inhumane process. See Michael Pollan's book, The Omnivore's Dilemma or the animated video, The Meatrix.
Uses less packaging.
"But grassfed meat is expensive," you say. Yes and no. I recently priced three pounds of grassfed corned beef for $76—plus shipping. Far over budget for Copywriters' Kitchen. With a little more online research, however, I located a local store selling three pounds of uncured grassfed brisket for $21. The hitch? I had to corn it myself. Sounds terribly laborious, but the truth? It took five minutes. Check out my recipe.
Flexibility is key: I try to buy local, organic vegetables. If logistics or budget forbid this, I make the next-best choice—maybe local, not organic or a vegetarian dinner instead of grassfed meat.
#3 Use cloth or other re-usable grocery and produce bags.
Cloth and other recyclable grocery bags are widely available. Wash and reuse plastic zip bags and produce bags. If you can manage it, stop using plastic produce bags altogether. They crowd landfills and kill tens of thousands of marine birds, fish and other ocean creatures. Instead, use cloth produce bags. You can buy them—see Green Kitchen Resources and Buying Guide, below—or sew simple bags from inexpensive fabric or old sheeting.
#4 Set the table with real plates, flatware and glasses instead of paper, styrofoam or disposable plastic.
In addition to generating less landfill, a nicely set table is a pleasure for your family. It signals meals as an occasion, a time for you, friends and family to set aside school, business and busy-ness.
Setting the table shouldn't take a huge amount of time and effort. Rotate responsibilities among family members or roommates. You can give the task of setting and clearing table to your youngest children while siblings and parents wash dishes.
#5 Use cloth napkins, towels and rags.
Cloth napkins are a natural choice for me because I've never used anything else. My hippie mother used cloth—un-ironed, naturally. My gracious-living grandmother used cloth also, though hers were pressed—along with towels and sheets!—by her laundress. My grandmother was a fine needlewoman and I'm lucky to own many of her beautiful hand-embroidered linens, see photo below.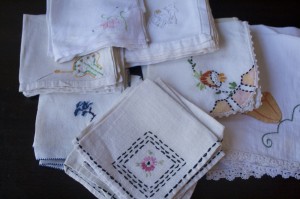 I don't use Grandma's linens every day, but I do use plain, cloth napkins for every meal. I wash and dry them with other colored laundry. And I only iron them when a compulsive perfectionist urge strikes—about once every other month, see photo below.
To avoid running out of napkins or being forced to wash frequently, make sure you stock an ample supply of cloth napkins. I use four-dozen everyday cloth napkins for my family of five.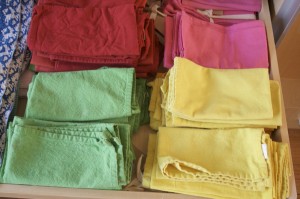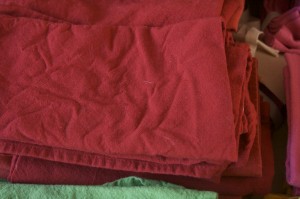 Look for heavy coarse-woven, colored and patterned napkins that don't show stains and wrinkles, see Green Kitchen Resources and Buying Guide below. When your napkins become stained beyond table use, you can recycle them into rags.
You can also make rags from old clothing, towels and sheets. T-shirt fabric and flannel are especially nice but any natural fabric works. Synthetics don't—they're not absorbent and leave slicks of water and polish on floors and furniture. Store soiled and clean rags separately—old pillowcases work nicely. You can wash rags in hot water with an extra dash of eco-friendly detergent to cut soil and oil.
#6 Compost food scraps and leftovers.
Composting is a great way to lower your impact on the environment. You can compost most biodegradable garbage—vegetable peels and cores, stale and leftover food—and turn it into compost.
Composting can…
Cut your garbage waste by 25%.
Diminish landfill and allow land reclamation.
Improve air by reducing greenhouse gas production.
Detoxify soil: Compost neutralizes dangerous substances, including some heavy metals.
Reduce need for chemical fertilizers and decrease toxic rainwater runoff.
Whether you live in the country with plenty of yard space, or in the city with none at all, you can successfully compost. For complete instructions on building an urban composter, see Green Kitchen Resources and Buying Guide below.
#7 Pack leftovers and lunches in reusable storage containers.
Stop throwing plastic and paper bags and wraps into landfill. You can pack fabulous hot and cold lunches in wide-mouth Thermos and tightly-lidded containers. Tuck leftovers into recyclable containers—glass storage is friendliest to the Earth and your health, see photo below. Want to learn more about glass food storage? Read 6 reasons why glass storage is better than plastic.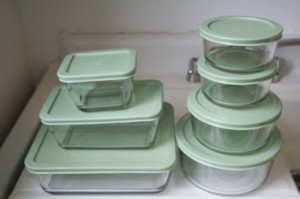 #8 Stop drinking bottled water.
According to Treehugger, to produce one bottle of Fiji water, the company:
Uses almost seven times more water—for production and transportation—than the bottle holds.
Burns 1 liter of fossil fuel.
Creates 1.2 pounds of greenhouse gas.
Drink tap water if water quality in your area is good—New York City is famous for it's excellent water piped from the Croton Aqueduct. If your water supply is questionable, consider installing a filter.
Serve water in a pretty pitcher, see some of my favorites in photo below. For in-between-meal thirst quenching, we use tall narrow lidded pitchers that squeeze into the refrigerator and look nice enough to place at table. We also keep several Sigg stainless steel bottles filled with water and chilled in the refrigerator. They're especially handy for car trips, the gym or with snacks.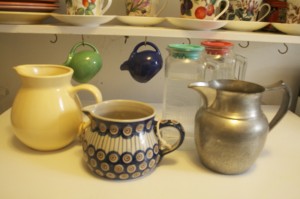 #9 Use a bowl or pot of water to rinse dishes instead of letting tap run.
After meals, rinse your biggest dirty pot and fill it with clean water. Use it to rinse the rest of your dishes. If you hand wash, soap a number of dishes using the pot of water, then use a trickle of water to rinse—or dip in a clean bowl of water, changing water as needed. If using a dishwasher, load fully before running.
#10 Fix—don't nix—broken appliances.
Your iron is sticky. Your Crockpot is missing a knob. You broke the glass container on your blender. With lives so busy and gadgets so cheap, it's tempting to toss out old appliances—even when they can be easily and inexpensively repaired. If you feel you need a better—or better-looking—appliance, do your best to responsibly move along your old model before buying another.
Make an effort to find parts and fix the broken appliances before giving it to a friend or donating it to your local thrift shop or Salvation Army. Before buying new appliances, consider gently-used models. At garage and flea markets in my affluent suburb, I find like-new food processors, bread machines, coffee makers and appliances for a fraction of the cost you'd pay for new.
Green Kitchen Resources and Buying Guide
Local food sources: Call your Chamber of Commerce for information on local farmers markets.
For pasture-raised meat, check out:
Sap Bush Hollow Farm owned and run by the Hayes family. Shannon Hayes literally wrote the book—The Grassfed Gourmet—on pastured meat. Copywriters' Kitchen buys most of our meat from Sap Bush Hollow in upstate New York; tell Adele, Shannon's mother, that I say hello.
Chaffin Orchards: A California family farm that sells pasture-raised meat, eggs, olives, olive oil, fruit and much more.
Tropical Traditions sells grassfed meat, organic, sustainably processed coconut and other oils, and many organic products.
Recycled china
For china, dishware, serving pieces and linens, browse thrift stores, garage sales and flea markets. For funky vintage kitchenware and tableware, visit the Etsy site of Surrender Dorothy.
Cloth napkins
For inexpensive new cloth napkins, try odd lot and discount stores such as Christmas Tree Shops on the East coast. Or buy inexpensive cotton fabric and cut and hem it into 18" squares.
Eco-friendly wash cloths and produce bags
Today most grocery stores sell re-usable cloth or fiber grocery bags. For cloth produce bags, search Etsy. You'll also find great hand-crocheted organic cotton wash cloths made by my friend Karen Lee at her Etsy store.

Composting
Glass food storage containers
See Copywriters' Kitchen Glass Food Container Buying Guide
Water pitchers and bottles
Classic Italian refrigerator water pitchers from Frigoverre.
Photo courtesy of Moriza