It's hip to be cheap. Repurpose your day-old bread: Make these Crunchy Oven-Toasted Coutons for salads, soups and snacks.
Fashion's fickle wheel cycles continuously and once more frugality is fashionable. Guess we've been ahead of our time for decades at Copywriters' Kitchen where we always aim to save money and reduce food waste.
This recipe for Crunchy Oven-Toasted Croutons is a great way to use up drying baguettes, a half-eaten loaf of Italian bread—or virtually any kind of leftover bread growing stale in your kitchen.
These garlicky croutons add crunch and herby flavor to salads and soups—try them with Curried Long Island Cheese Pumpkin Soup. We also dip Oven-Toasted Croutons in vinaigrette or Caesar dressing as a snack.
Few things make me veer faster from a recipe than a "low-fat" claim. In my admittedly prejudiced mind, "low-fat" and "no-fat" food delivers low and no flavor. These croutons are an exception. Because they cook in the oven—rather than a skillet with copious quantities of oil, as with traditional pan-fried croutons—Oven-Toasted Croutons use very little oil.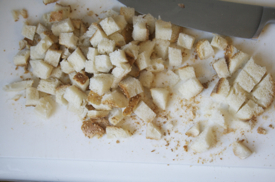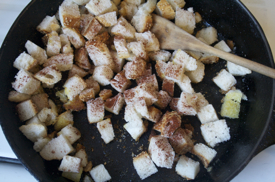 Crunchy Oven-Toasted Croutons Recipe
½ loaf—about 4 cups—day-old Italian bread or other leftover bread, cut into ½" cubes.
3 tablespoons olive oil
½ teaspoon garlic powder
½ teaspoon salt
1 teaspoon paprika
½ teaspoon oregano
Preheat oven to 400 degrees.
Slice bread and cut into ½" cubes, see photos below.
In large oven-proof skillet, heat oil over medium flame.
Toss bread cubes to coat with oil.
Season with salt and spice, stirring to incorporate.
Lower flame slightly and sauté bread for 1-minute, stirring constantly to keep bread cubes from burning.
Put skillet into the oven and bake bread cubes for 4-5 minutes.
Slide rack out and toss bread cubes to help them brown evenly. Slide rack back and bake croutons for another 4-5 minutes, checking often to make sure they don't burn.
Remove croutons from oven and cool before eating or storing in an air-tight container. If storing for more than a few days, place croutons in refrigerator or freezer.

Makes about 4 cups of croutons.