Stay updated on my latest posts? Subscribe now for direct delivery to your RSS feed. Thanks for visiting!
"Where did time go? It's already Labor Day weekend."
Time's slipperiness always surprises us. We weren't exactly sleeping through July, right? July is a month of settling in to summer. Making the shift from kids' school schedules to camp routines. Switching to salad dinners and turning on air-conditioners. Adjusting to the rhythm of Summer Fridays and offices oddly emptied of vacationing workmates.
Then August 1 rolls round—and we're shocked.
Winged maple seeds spiral to the ground, cicadas saw, fireflies blink. The plants and creatures knew it was coming, but it caught us unaware. From that rude summer awakening, we steamroll to August's end.
Summer isn't officially over until the autumnal equinox—September 23 this year. But here in the U.S., Labor Day marks the turn. We move from bare legs, lingering light  and languorous, long evenings to corduroy, crisp morning air, and—for people like me in ecommerce—a pulse-quickening selling season and sprint to the holidays.
But not yet.
We still have three days.
And over the next 72 hours I intend to soak up every last drop of summer's sweetness.
Artful Long Weekend
My family and I are art-binging in NYC:  Italian Futurists at the Guggenheim, Jeff Koons at the Whitney, the movie Boyhood.
On Labor Day we'll picnic in Prospect Park: menu to  include deviled eggs, a variation of this, cheesy corn pudding with thyme, salads—quinoa, tomato and queso fresco—bread, cheeses and olives.
And lots of Watermelon Lemon Squashes
.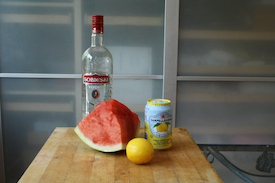 Watermelon Lemon Squash: Summer in a Tall Glass
Virtually unknown here in the states, squash—a mixture of citrus juice, simple syrup and water—is a popular soft drink in the U.K.
For an adult version, I spiked the kiddie drink with vodka and tarted it up with lots of lemon juice. And I added soft summer fruit, battered into a slush that deliciously soaks up the alcohol and citrus juice.
While you can use any stone fruit or berry—raspberries are delicious—my favorite rendition uses watermelon. Choose a firm, dark red melon at your produce stand. Slice a generous piece, remove seeds and cut into cubes.
Dump the cubes into a tall glass—or for that Williamsburg hipster vibe, a wide-mouthed 16-ounce Mason jar. With a bar muddler or wooden spoon, smash the watermelon until it's watery with only a few small chunks of pink melon flesh.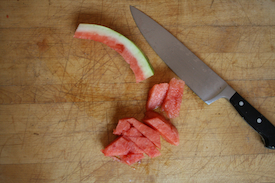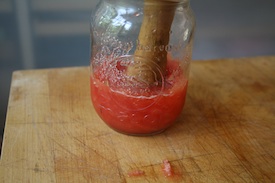 Warning: Don't be lazy and work this step with a blender or mini food chopper: you want to aim for bruised fruit that forms a chunky slush, rather than a purée.
To the watermelon slush add juice of one lemon and a jigger—and a splash more—of vodka. Fill the glass ¾ full with San Pellegrino Limonata—about 8 ounces. Stir slightly to blend the vodka—don't over stir or you'll deflate the effervescence. Fill the glass with cracked ice, garnish with a lemon slice and serve.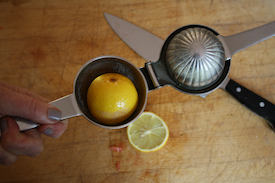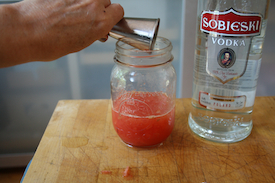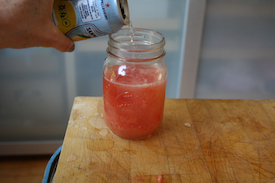 Watermelon Lemon Squash Cocktail Recipe
3/4 cup cubed, seeded watermelon
Juice of one lemon
1 jigger vodka
8 ounces San Pellegrino Limonata
Cracked ice
Sliced lemon round for garnish
Put watermelon in a tall glass or Mason jar. With a bar muddler or wooden spoon, mash the watermelon until it's slushy.
Add juice of one lemon, jigger of vodka and limonata. Stir gingerly to mix.
Fill glass with cracked ice and garnish with lemon round.
Serves one.