Stay updated on my latest posts? Subscribe now for direct delivery to your RSS feed. Thanks for visiting!
Suspicion.
That's what I felt when I read the unanimously rave reviews of Marcella Hazan's easy three-ingredient Butter Tomato sauce. Lauded on food blogs, the sauce has, over the last few years, developed almost mythic status. Food folk turn somersaults describing its tomato-y, buttery flavor.
"…unparalleled velvety richness," reports The New York Times. "…delicate, fresh and sweet," purrs Smitten Kitchen. "…brilliant sauce…immortal…viral," enthuses the Amateur Gourmet.
Uh-huh.
See, before tasting it, I didn't believe all that mind-blowing flavor could be squeezed out of just three ingredients.
But I was wrong.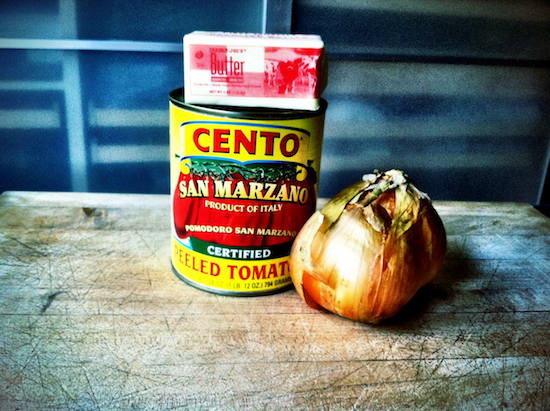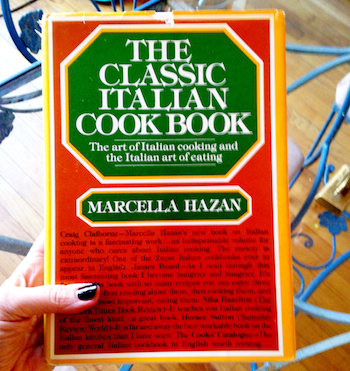 Not your typical red sauce
Hazan's full-flavored, savory, salty-sweet, nuanced (see, there I go) sauce is almost as notable for what it leaves out as what it puts in. Among the typical Italian red sauce ingredients not included in Hazan's easy recipe:
Olive oil
Bacon
Pancetta
Sausage
Any pork at all
Ground beef
Stew meat
Beef bones
Any beef at all
Any meat at all
Wine
Milk
Capers
Basil
Oregano
Parsley
Rosemary
Thyme
Crushed red pepper
Any spices or herbs at all
Here's what is included:
San Marzano tomatoes
Butter
Onion
That's it.
No-sweat prep
In addition to requiring just three ingredients, the recipe is super easy to prepare. You don't chop, mince, grind, sauté or strain. You barely have to stir.
Which makes it a great starter recipe for new cooks. Hazan's sauce has become my college-student son's signature dish. On a recent Saturday night, he successfully quintupled the recipe to help carb-load his Fence Club fraternity brothers and sisters.
Just how easy is it to make this sauce? Dump a can of San Marzano tomatoes into a heavy pan, add five tablespoons of butter and a peeled, halved onion. Simmer for 45 minutes. Remove onion and pour sauce over pasta.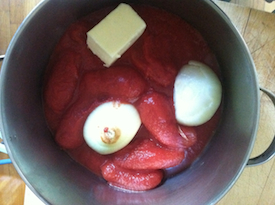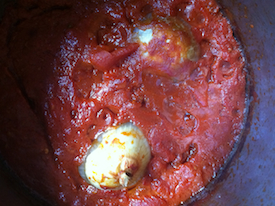 Easy side dish: onion jam
While most recipes tell you to toss the cooked onion after the sauce is finished, I found the onion makes a delicious—and again, easy—side dish. Just scoop the onion from the sauce, chop fine and season with salt and pepper. Pass at table—it's heaven spread on a crusty slice of buttered Italian bread.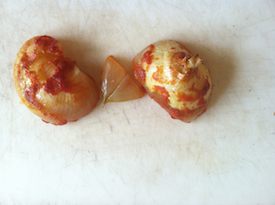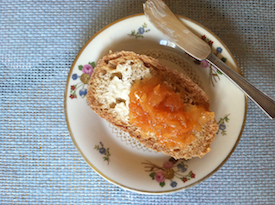 Marcella Hazan's Butter Tomato Sauce & Onion Jam
1 can of San Marzano tomatoes—don't substitute
5 tablespoons butter
1 onion, peeled and cut in half
½ can water
Salt to taste
One pound pasta, I like spaghetti, penne or rigatoni
Place all ingredients—except pasta—in a large, heavy pan.
Bring to a boil, then reduce to low flame.
Roughly chop the tomatoes with the side of a large spoon or spatula—I use a bread dough scraper.
Simmer for 45 minutes to one hour. If sauce gets too thick, add a few tablespoons of water.
In the meantime, bring a large pot of salted water to a boil. Add pasta—identify cooking time from pasta package—timing it so that pasta is al dente when sauce is finished.
When sauce is done, turn off heat and remove onion.
Cut off the onion top. Mince the onion until it's the consistency of jam. Add salt and pepper to taste.
Drain the pasta. Pour the sauce over it and toss. Serve immediately with grated Parmesan cheese and onion jam to pass at table.
Serves six
Spaghetti image courtesy of Interno2.