Few things plunge me into mid-winter melancholia faster than the sight of a tinsel-strewn Tannenbaum tossed out the day after Christmas.
Our culture's commerce-combusted Yuletide season gets the sequence wrong. Online and in-store merchants start prodding in October, fueling excitement,  anxiety—and sales—up until Christmas Day.
Then, kaput. The holiday is over.
Subvert crass consumerism. Celebrate all 12 days of Christmas.
In reality, the Christmas season runs exactly the opposite course: Advent, the four weeks before Christmas Day, is traditionally a season of waiting and reflection. Christmas Day marks the beginning, rather than the end, of the holiday season.
Festivities last 12 days, culminating in the Feast of the Epiphany on January 6, also known as Three Kings Day or Twelfth Night.
When our children were young we tried to keep Advent low-key. As the days grew shorter, we lit Advent candles to stave off darkness. We waited as long as possible to buy and decorate our tree. On December 25, we began to celebrate and kept holiday through Twelfth Night.
But the kiddos are older now and (sniff) scattered about for college and work. And as Copy Director for a fashion brand, I own that I contribute to the preseason rush with my fair share of prodding and pushing marketing.
So at Copywriter's Kitchen, while Advent may not be as Waldorfen and womb-like as back in the day, Christmas still casts a spell that binds our family together.
For us, December 25 marks the beginning—rather than the end—of our holidays. As schedules allow—Skyping with Wee in Saint Petersberg!—we gather for church and cocktails, movies and museums, dinners and desserts.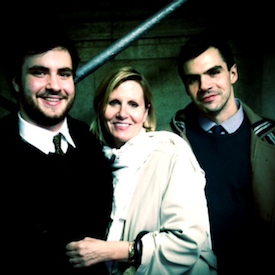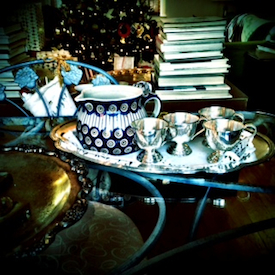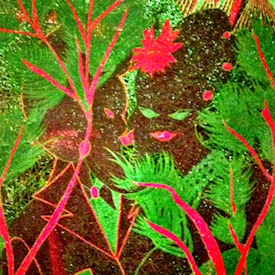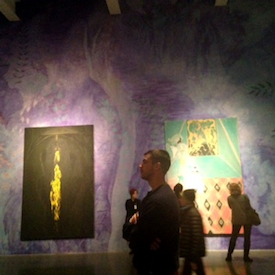 And on January 6, any fledglings close enough to flit home return for a festive meal—and Twelfth Night Almond cake.
Focus on baking, not buying
Adapted from a recipe by Rose Beranbaum—she of "death by buttercream" Cake Bible fame—our Twelfth Night Almond Cake delivers intense almond flavor and a tender, moist crumb.
It uses Beranbaum's counterintuitive cake-mixing method: You blend butter directly into the dry ingredients, rather than creaming butter, sugar and eggs and adding dry ingredients alternating with milk.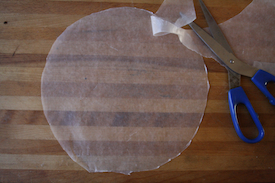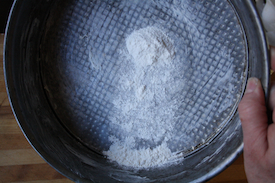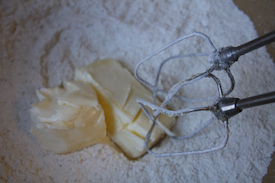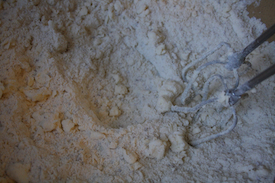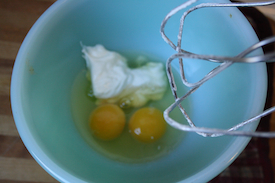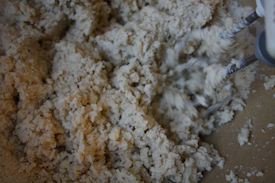 Beranbaum claims her method strengthens cake "structure," and helps it develop the fine crumb of a packaged cake with the flavor of a homemade butter cake.
Yes, indeedy.
My recipe tweaks proportions and includes an almond glaze that guarantees your cake stays moist for days. If it lasts that long.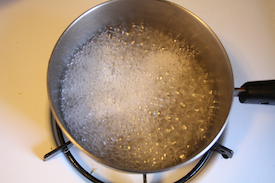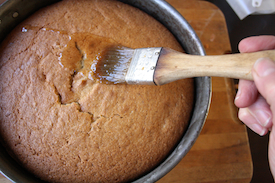 Of course, you can serve Almond Cake on other occasions—it's a favorite birthday cake here at Copywriter's Kitchen. But on January 6, you turn it into a "Twelfth Night Cake" by burying a bean in the batter before baking.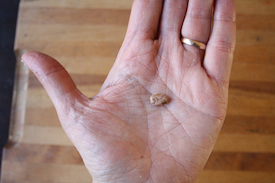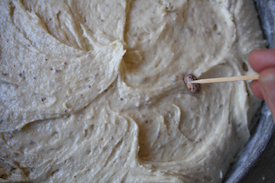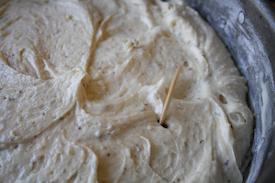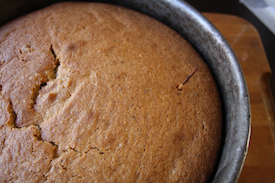 And by adding Three King figures, if you like…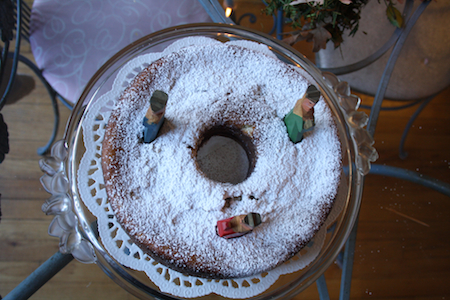 Anticipation grows as you slice and serve the cake. Eat carefully: You don't want to crack a tooth, but you do want the bean. The lucky child—or adult—who gets the bean is crowned King or Queen for the year.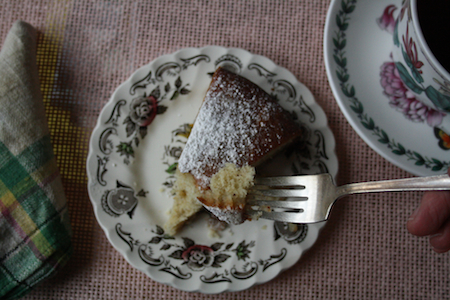 Twelfth Night Almond Cake

2 eggs
1 cup sour cream
2 teaspoons almond extract
1/2 teaspoon vanilla extract
2 cups flour plus extra for flouring pan
1/2 cup almond meal—I buy Trader Joe's, but you can grind your own using blanched almonds
1 3/4 cups sugar plus extra to dust baking pan
1/2 teaspoon baking soda
1/2 teaspoon baking powder
1/2 teaspoon salt
12 tablespoons unsalted butter, softened plus extra for buttering the pan
One pinto or other bean
1/4 cup sifted confectioners sugar
Preheat oven to 350 degrees.
Place a 9" springform pan on a piece of wax paper. Using a pencil, trace a circle around the bottom of the pan onto the wax paper. Cut out the circle.
Generously grease the pan with butter. Place the wax paper circle on the bottom of the pan and smear with butter to coat.
Toss a tablespoon or so of flour into the pan and shake to coat pan bottom and sides. Set aside.
In a small bowl, blend eggs, 1/3 cup sour cream and vanilla extract and 1 teaspoon almond extract. Set aside.
If making your own almond meal, place 1/2 cup blanched almonds in a blender or mini processor. Pulverize until ground fine.
In a large bowl, mix almond meal, flour, 1 1/4 cup sugar, baking powder, baking soda and salt. Blend well—for a full minute—with an electric mixer.
Add softened butter and remaining 2/3 cup sour cream to flour/sugar mixture, blending with mixer on low speed for about 30 seconds or until dry ingredients are moistened. Increase speed to medium and blend for 1 1/2 minutes to "aerate and develop the cake's structure."
Gradually add the egg/sour cream mixture in three batches, beating for 20 seconds after each addition to thoroughly mix ingredients.
Scrape the batter into the prepared pan and smooth the top with a spatula.
Add the bean and push it into the batter with a toothpick. I leave in the toothpick. (This trick assures I start cutting on the right side of the cake and someone gets the bean on 12th Night, rather than 13th Night…)
Slide pan into oven and bake 35-45 minutes or until a wire or bamboo skewer tester comes out clean when inserted into center of cake.
While cake bakes, prepare glaze: In a small saucepan blend remaining half cup sugar with 1/2 cup water. Place over medium flame and bring to a boil. Lower flame and simmer until sugar completely dissolves. Turn off flame and stir in remaining teaspoon of almond extract.
When cake is done, slide out of oven. Immediately brush syrup over top of cake. Place cake on a rack and cool for 10-15 minutes until cake recedes slightly from sides of pan. Run a knife around the sides of the pan and invert cake onto a second cooling rack. To avoid rack lines on top of your cake, once more invert cake onto the first rack so that the cake is sitting upright.
Brush cake sides and top of cake with syrup. Wait until syrup absorbs, then brush on another coat, continuing until all syrup is gone.
Cool cake completely. Just before stirring, dust with confectioners sugar and decorate with Three Kings figures, if desired.
Serves 12.